If you want to reach a wider audience with your website, it is important that you are not limited by language barriers.
65% of people prefer to access content in their language. Also, 40% will not buy products from websites in other languages.
While WordPress doesn't come with built-in multilingual features, it is still relatively easy to create a multilingual website. WordPress offers a wide selection of translation plugins to choose from.
However, keep in mind that choosing the best WordPress translation plugin for your site will mostly depend on your needs and budget.
In this article, we will cover the top ten features of the top ten WordPress translation plugins in 2022 to help you launch a multilingual website.
What Is a Translation Plugin?
A WordPress translation plugin translates your site content into multiple languages, allowing visitors to navigate to the website of their choice.
WordPress translation plugins generally fall into one of these categories: machine translation and machine translation.
The first type of plugin uses a translation API, like Google Translate, to translate your website content. Although these machine translations have improved over time, they can still contain mistakes and misused words.
With this type of plugin, you can edit the translations and adjust them to suit your style. However, you may need to hire a professional translator, which will add to your overall costs.
If you only intend to translate buttons, menus, and plain text, machine translation plugins are a great option.
We include both types of WordPress translation plugins on our list, so you may be able to find a tool that fits your budget and offers your preferred translation methods.
The Best Free WordPress Translation Plugins
These are some of the best WordPress translation plugins that you can download for free to create your multilingual website.
The Translate AI Multilingual Solutions GTranslate plugin is a freemium WordPress plugin. Use the Google Translate API to automatically translate your WordPress site.
It supports over 100 languages which makes it more flexible than many other translation plugins. It also provides unlimited word and pageviews which is a great feature for sites that need to translate a large amount of content.
GTranslate is also an SEO compatible plugin. It also offers two custom URL structures to choose from, helping you manage translated content.
The free version of this plugin is a great option for all WordPress users. However, features like machine translation editing, language hosting, and search engine indexing are only available on their paid plan, which starts at $ 7.99 / month.
Google Website Translator is a plugin created by Prisna. It is open source software that people can use for free to create their multilingual websites.

Like the GTranslate plugin, it allows you to automatically translate your content with Google Translate into more than 100 languages.
Google Website Translator is easy to use and does not limit the number of words you can translate. It's also a lightweight plugin, so it won't affect your page speed.
However, the Google Website Translator plugin is not very flexible. You can't translate your website URLs, putting your posts at a disadvantage for search engines. Another drawback is that it does not allow you to edit the translated content.
Loco Translate is a free WordPress translation plugin for developers.
It has a simple user interface that translators can work with, allowing them to fully concentrate on their work.
To simplify the translation process, Loco Translate integrates well with popular translation APIs like DeepL and Google.
Loco Translate is primarily used to translate themes and plugins from your WordPress admin area. However, when themes or plugins release their new versions, you will have to update the translation manually because Loco Translate does not automatically update it for you.
The plugin is free for up to 2000 translations. The paid version of Loco Translate starts at $ 5.95 / month and, in addition to unlimited translations, it also offers unlimited languages and revision history.
Xili Language is one of the many free WordPress translation plugins available to help you build a multilingual site.

It will translate your content and topics to any language right from your control panel. Xili Language supports single WordPress websites and multi-site networks.
Install this plugin to translate pages, custom posts, categories, and many other essential WordPress attributes. Use a custom taxonomy to tag languages on each post and content page.
Xili Language also allows you to assign multiple languages to a page or post. It is suitable for small sites with little content, but it can be inconvenient for larger websites because it does not offer any machine translation functionality.
Lingotek Translation is a free WordPress translation plugin that aims to simplify the process of creating and managing a multilingual site.

You can translate pages, posts, categories, and other aspects of your WordPress site to any language you want.
Lingotek offers many great options. The first is to manually translate the content yourself or collaborate with your employees. All the work is done with Lingotek Workbench, a text editor for translating and reviewing content.
The second method uses a Microsoft Translator commercial API to automatically translate your content. Lingotek's machine translation will translate up to 100,000 characters at no additional cost.
The last method is to outsource your work to a professional translation service. The process is transparent, so you can see how the translation is progressing. Once the translators have finished their work, the translation will be instantly uploaded and published on your website.
Although it offers various translation methods and a convenient user experience, Lingotek does not support SEO.
TranslatePress is a freemium WordPress translation plugin. You can translate content, media, custom post types, WordPress themes, plugins, etc.
Like Lingotek, TranslatePress supports manual and machine translation. Users can add a language selector to their website, giving them the flexibility to adjust the language settings according to their preferences.
A unique aspect of TranslatePress is that it allows users to translate directly in the interface. The live preview feature also makes it easy to switch languages when translating. This way, you can quickly spot bugs and modify them on the fly.
If you want additional features, such as translator accounts and the ability to translate meta information, you will need a premium plan. You can buy it from € 79 / year for a single site.
The Best Paid WordPress Translation Plugins
If you're looking to translate a high volume of content or get rid of the limitations of free plugins, check out our recommendations for the best premium WordPress translation plugins.
Polylang Pro plugin allows you to translate your website's WordPress posts, menus, categories, and even widgets.

What's especially great about the Polylang plugin is that it allows you to add as many languages ​​as you like. You can easily separate translations into subdirectories, subdomains, or even different domains depending on the language.
Polylang Pro also offers you the possibility to integrate Lingotek as a complement. It will make it easier for you to manage your translation projects by giving you access to professional and automated translation services.
Its compatibility with Yoast SEO and other WordPress SEO plugins makes it a popular choice for website owners who want their content to be SEO optimized.
Although Polylang has a free version, it has limited functionality. It cannot translate URL slugs or provide access to premium support, for example.
Polylang Pro is available for $ 99 for single site use.
Weglot is a popular paid plugin for people who want to quickly build a multilingual WordPress site. It supports more than 100 languages ​​and will allow you to easily translate your website through a simple interface.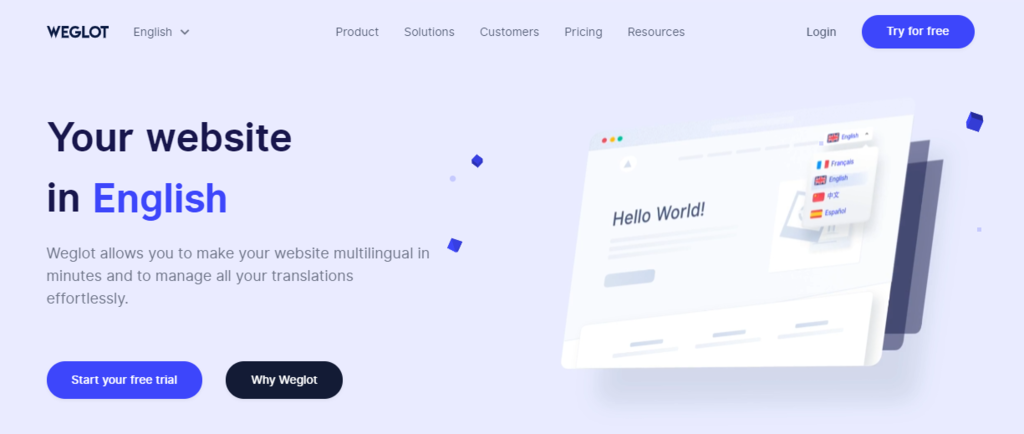 Weglot focuses on manual and machine translation. Depending on your target language, this will allow integration with the best machine translation providers like Google, DeepL, and Microsoft.
It also offers two translation interfaces. One is a parallel interface that displays the original language along with the target language. This gives you the context of the translation, making it easy to edit.
The second is a visual translation editor that shows you a live preview of the website interface, allowing you to translate the text comfortably.
Weglot also comes with a translation management system to make it easy for translators to manage their projects and collaborate.
However, Weglot is less flexible in terms of URL editing. It only offers the feature on its main plans, which start at $ 199 / mo.
To access its other functions, Weglot offers more affordable options, from € 9.90 / month for a translated language and up to 10,000 words.
WPML is one of the best translation plugins for WordPress. Its functionality is extensive, since it allows the translation of a website, its theme, plugins, taxonomies, strings, custom fields and many more fields.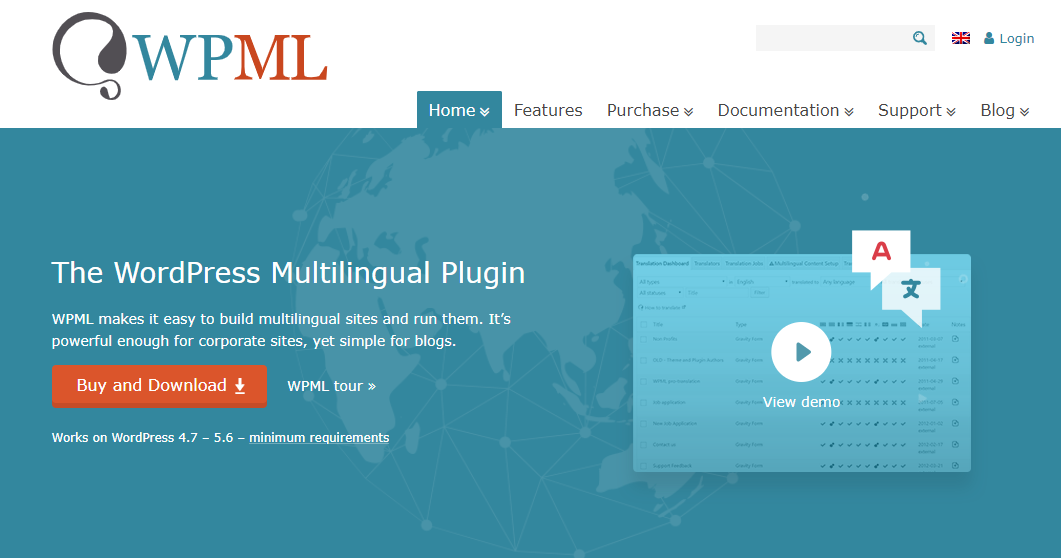 Like Lingotek, WPML offers you three options for translating content. The first is automatic translation with Microsoft Azure, Google or DeepL.
You can also translate manually or outsource the work to professional translators, as WPML allows you to connect the website to third-party services.
It also gives you three options when it comes to URL structure to ensure an SEO friendly translated website.
WPML machine translations are also very limited, providing only 2000 credits / month at no additional cost. The value of each credit depends on the machine translation software you choose. If you are depleting all your credit, you will have to pay as you go.
For $ 29 / year, you can get the Multilingual Blog package. Annual renewals cost less than the initial price, making them a great long-term investment.
MultilingualPress allows you to separate your translations to different sites according to your language using the WordPress multisite network.
This creates different versions of your site, which is great if you want to develop and include specific local content at the same time.
MultilingualPress allows users to manage their custom fields and translations in one place thanks to its compatibility with the Advanced Custom Fields plugin.
If you have an eCommerce site, the plugin allows you to easily create multiple stores and translate your posts. MultilingualPress is also optimized for WooCommerce, making it ideal for businesses looking to expand their market.
Depending on the language of the user's browser, MultilingualPress will also redirect them to their preferred language.
MultilingualPress is slightly more expensive than other multilingual plugins. Its best-seller is the Pro plan, which includes six languages ​​and three multi-sites for $ 299 / year.
Conclusion
There are plenty of multilingual plugins to choose from, both free and paid. If you are still not sure which WordPress plugin to choose, our top recommendations are:
Best free translation plugin: GTranslate. GTranslate is a free plugin that requires minimal management. It is easy to use and extremely convenient for quick translations.
Best Paid Translation Plugin: WPML. It offers a wide variety of functions at a reasonable price. WPML gives you complete freedom to translate your site, which is great for growing your multilingual website to its full potential.
Ultimately, choosing the best WordPress translation plugin depends entirely on your website's needs and budget.
Let us know in the comments below which plugin you end up choosing.