Website speed, or if you prefer a more technical term, website loading speed is an important SEO factor. It is also the main component of the user experience. The attention span and patience levels of modern online content consumers are quite low. If your website doesn't load fast enough, you could lose that valuable traffic. The content distribution network can dramatically speed up a website.
CDN providers provide services capable of speeding up any website, regardless of the location of the server on which it is hosted. Best CDN uses file sharing and does so on servers around the world. Website visitors do not need to download content from servers around the world. Instead, they get the content from the closest server.
The Top 10 most popular CDN services
Whether you are running a solid ecommerce website or a simple trading portfolio website, the following top CDN providers will help you increase your website speed.
1.KeyCDN — The most affordable packages with free SSL
If you are looking for an inexpensive CDN with a reliable and well distributed network, look no further, KeyCDN should be your preferred choice. Affordable pricing plans aren't the only reason I see KeyCDN on my list. It is also easy to use. It comes with a well-designed and intuitive dashboard. Even users with limited technical knowledge can configure and use it.
The provider also offers some advantages to advanced users. For example, you have the autonomy to decide which CDN server to use as an update source to lighten the load on your server. Users can also define a custom robots.txt file and manipulate the cache and delete cookies.
Key Features
Support for HTTP / 2 and IPv6
Zone header and alias control
GZip compression
Image processing
Real time reports
Additional security protocols
Price
Pay what you use model: users can enter their monthly outgoing bandwidth to calculate their costs online.
2. CDN77 — Free SSL and surprisingly easy to use
CDN77 is very similar to KeyCDN in terms of ease of use, affordability, and number of features. CDN77 has been on the market for some time. Its network includes 30 data centers around the world. Most of them are in the US and Europe, making this provider more focused on western countries. Although easy to use, CDN77 has a very impressive clientele, including the European Space Agency.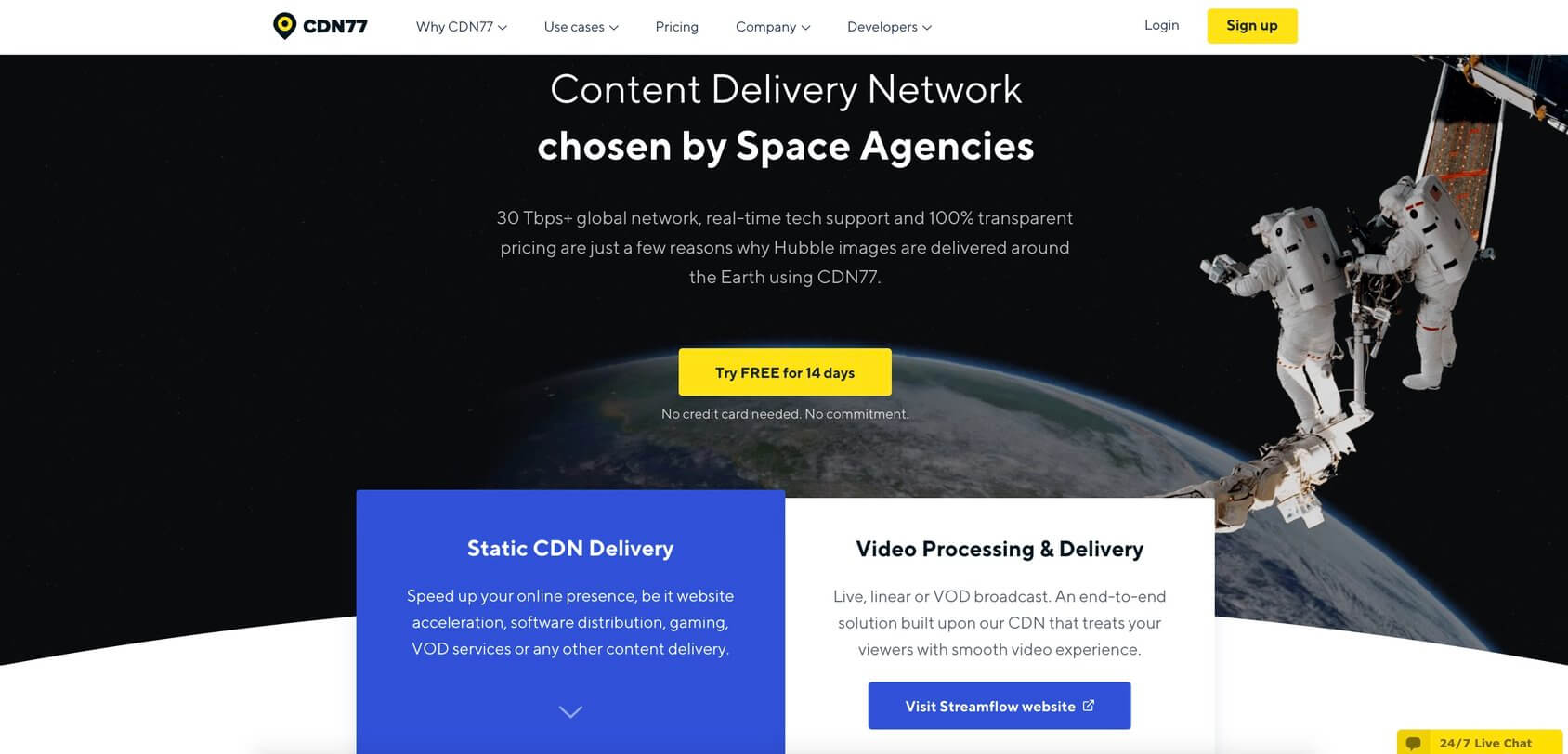 The CDN77 panel is easy to use for beginners and retains some advanced settings for more advanced users. The provider offers good value for money and adds a free Let's Encrypt SSL benefit to every contract.
Main features
Brotli and GZip support
TLS 1.3 with O-RTT
HTTP / 2 support
Support for CMS integration
Layered security solutions ranging from DDoS protection to Hotlink protection
API
Manage cache rules
Price
6TB – from $ 199 per month
25 TB – from $ 385 per month
50 TB – from $ 580 per month
100 TB – from $ 990 per month
150 TB – from $ 1,390 per month
3. CacheFly — The fastest CDN network
CacheFly CDN is one of the fastest CDN providers on the market. But that's not the only reason I added it to the best CDN list. It is also the pioneer in adopting and using the TCP Anycast architecture, which allows you to assign unique IP addresses to websites globally.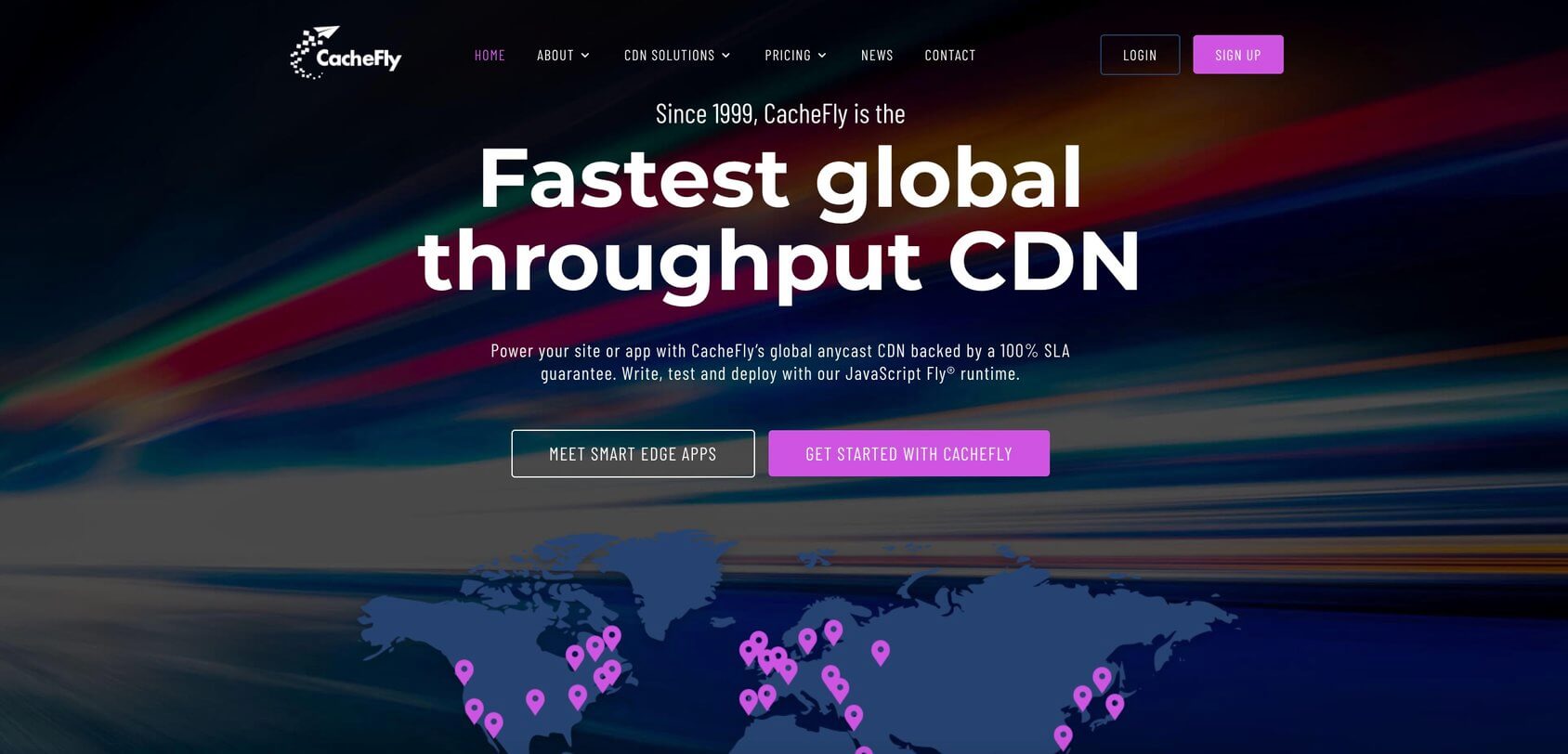 While the CacheFly network is not as large as Akamai's, it is optimized for incredible speed and strong security. This provider has proven effective in serving a variety of specialized websites ranging from podcasts and regular content streaming to Smart Edge apps and HD video streaming.
Main features
Well-optimized server network with points of presence around the world
Anycast TCP architecture
HTTP / 2 support
Improved security
Real-time reports
Prices
Small Business – Starting at $ 295 per month (if you pay in advance for a year, you get 2 months free)
Business: from $ 600 per month
Smart Edge apps: from $ 2,000 per month
High volume plans – you will need to contact customer service for a personalized quote
4. StackPath — Great for beginners
StackPath is a relatively small operation. However, due to its reliability, strict security, ease of use, and focus on the North American and European markets, it is on my list. StackPath only has 32 points of presence: 14 in North America, 9 in Europe, 5 in Asia, 2 in Australia, and 2 in South America. The dashboard is simple and intuitive so that less experienced users can use it without problems.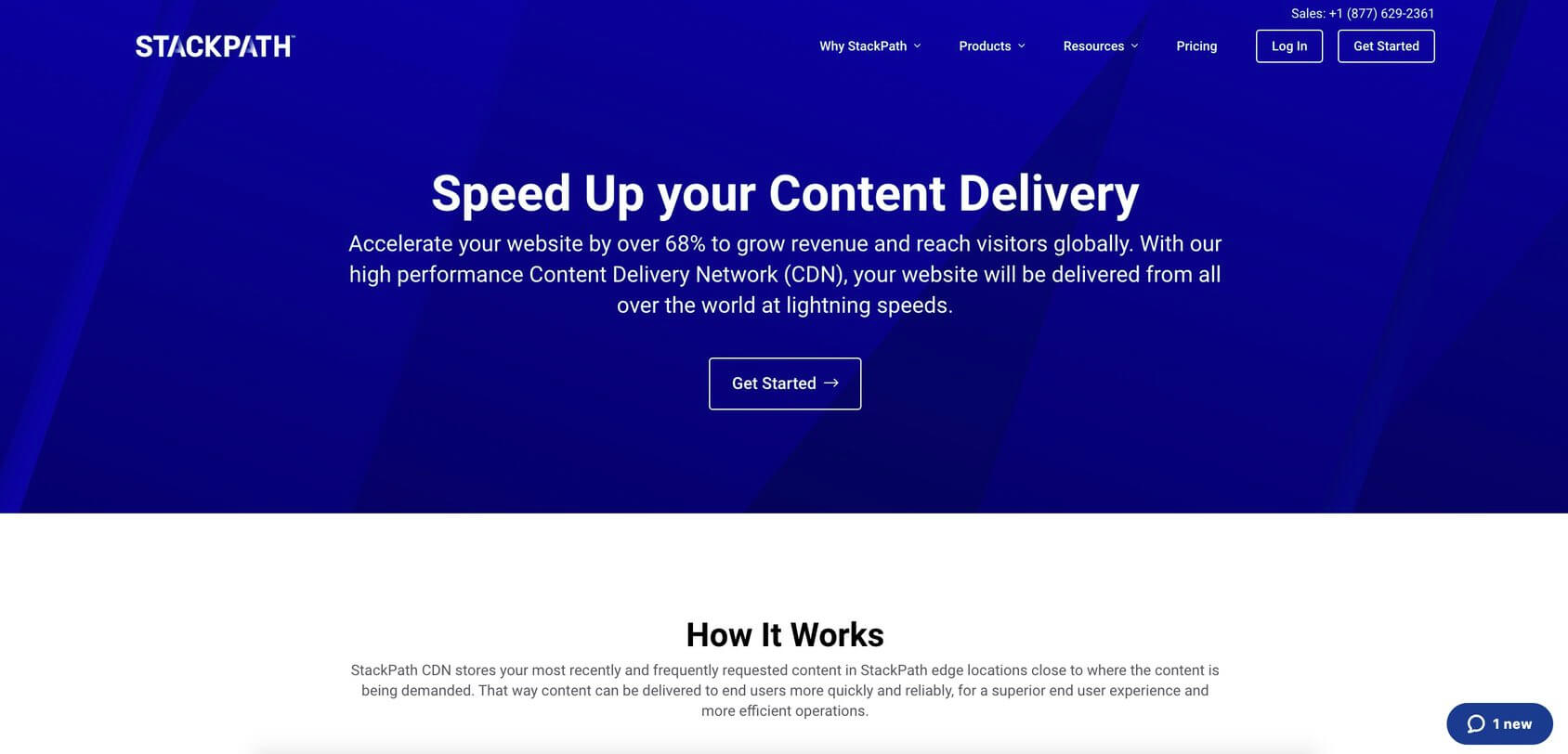 Performance is consistent on servers in North America and Europe. However, the output from the other points of presence is slightly worse. StackPath maintains top-notch security. It comes with DDoS protection, firewall, and edge rules to help you customize the service in all phases of the CDN request.
Main features
A relatively small server network with a focus on western countries.
Smart caching and customizable caching rules
Instant purge around the world
Real time analysis
GZip compression
HTTP / 2 and WebSocket support
Prices
Edge Delivery 20 – Starting at $ 20 per month
Edge Delivery 200 – Starting at $ 200 per month
Edge Delivery 2000: Starting at $ 2,000 per month
5. Cloudflare — The best free plans in the CDN niche
Cloudflare is a leading CDN company in the US The tactic of allowing ease of use, but also offering advanced customization options, works in Cloudflare's favor. Users without technical experience can configure Cloudflare and start using it without having to write a single line of code. It's as easy as updating your DNS nameservers to use Cloudflare.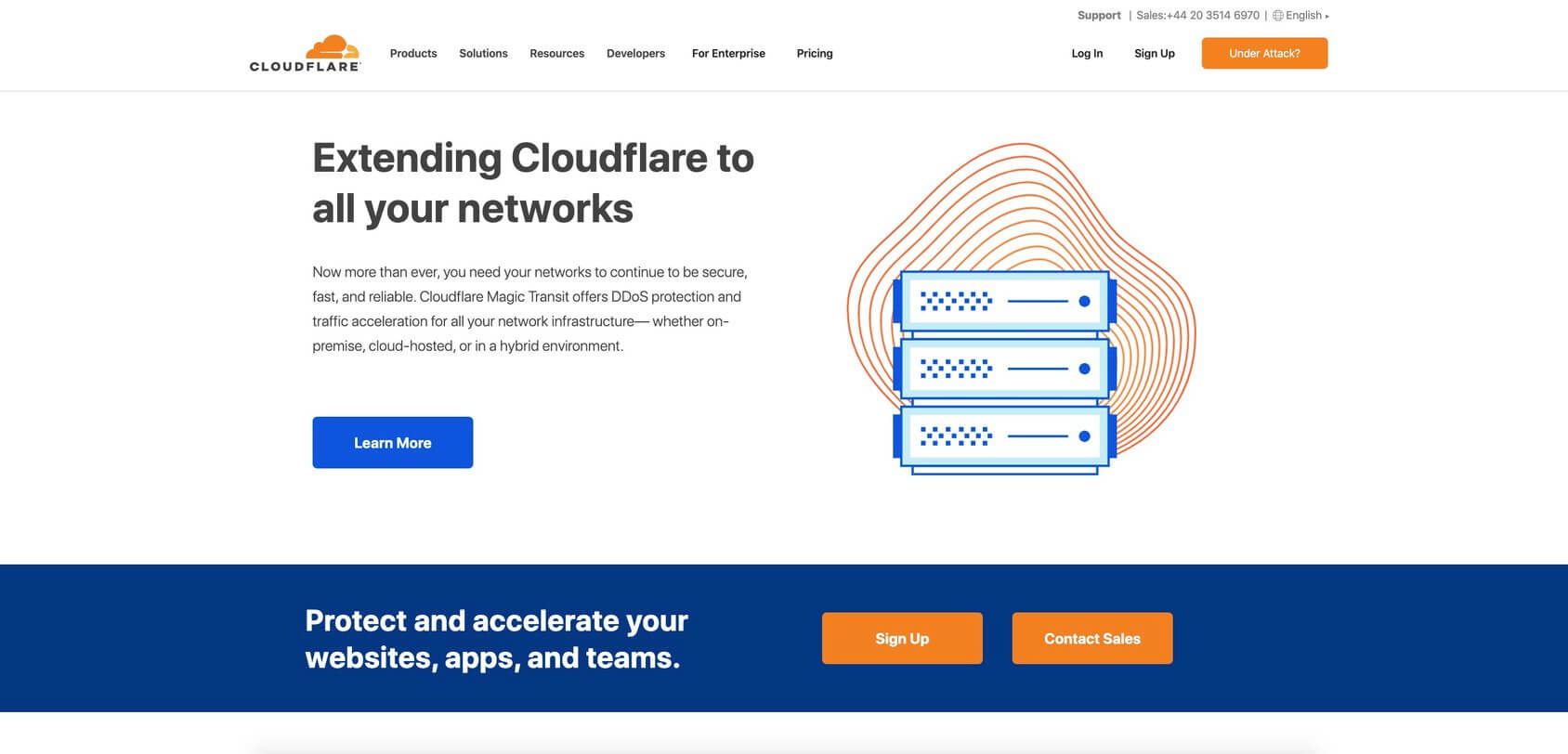 However, if you decide to take a look below the center, you will be amazed. You can enable bot filters, prevent content spam, benefit from layered security solutions, and even cushion the impact of DDoS attacks. The surprising thing is that Cloudflare offers a free plan with no bandwidth limitation.
Main features
Hundreds of servers located in 200 cities and more than 95 countries
API for advanced users who want to take full control of content caching and debugging actions
Support for static and dynamic content delivery
HTTP / 3 support
Intelligent traffic routing
Support for CMAF, HLS, MPEG-DASH video files
Prices
Free: includes CDN services, DDoS protection, and email customer support
Pro: from $ 20 per month
Business: from $ 200 per month
Company: you will need to request a quote
If anyone has a presence in the world, it's Google. Google Cloud CDN leverages the company's presence to deliver one of the fastest, most streamlined CDNs on the market. Google Cloud CDN has proven to be efficient and reliable in delivering video and web content to all continents.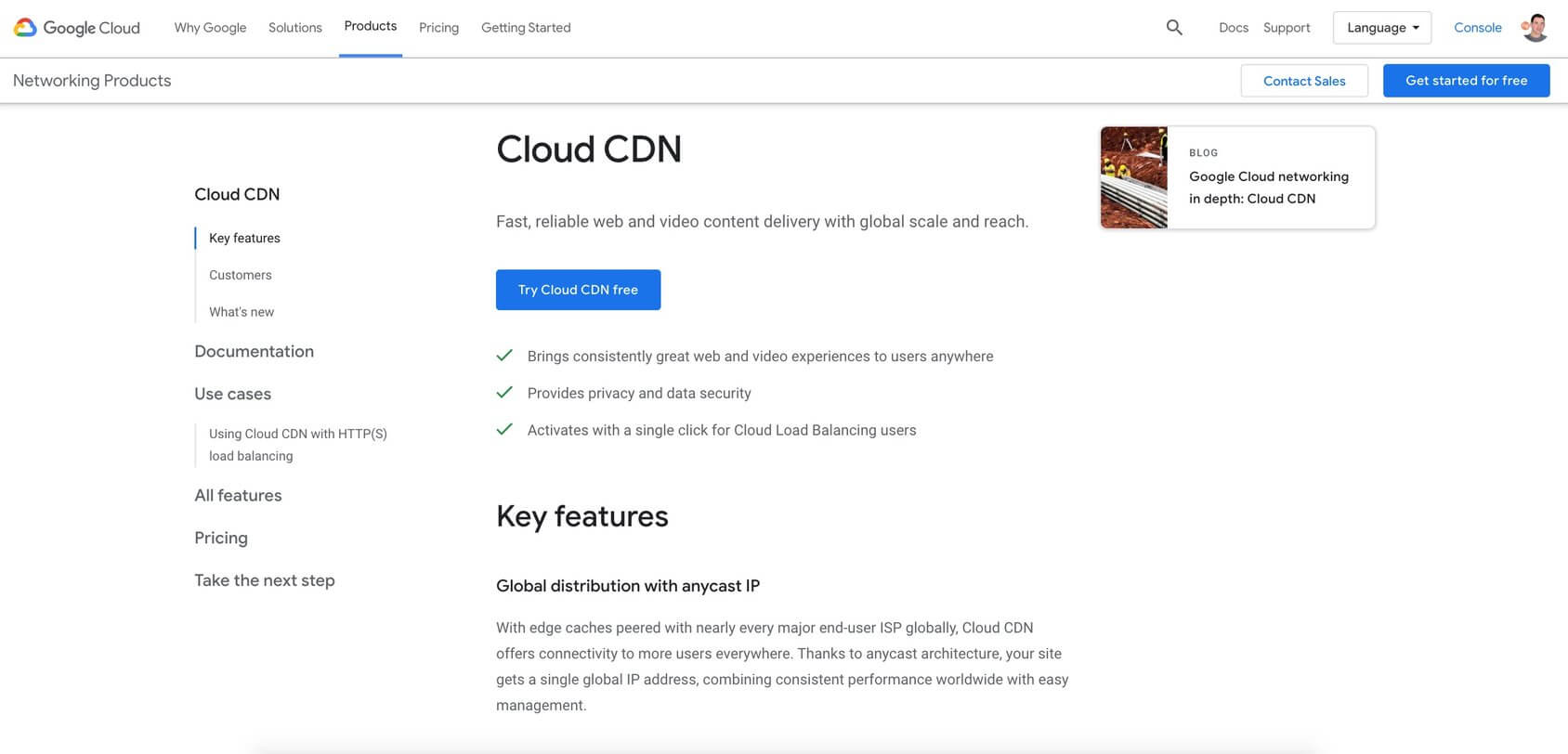 The company achieves excellent connectivity by interconnecting edge caches with almost all of the major end-user ISPs. Cloud CDN also assigns a unique global IP address to your website, providing consistent performance across desktops and mobile devices. Google's CDN is integrated with Google Cloud so users can benefit from powerful reporting, real-time monitoring, and industry-grade online security.
Main Features
Anycast Architecture
Support for hybrid and multi-cloud architectures
Support for HTTP / 2 and QUIC
Free TLS (SSL) certificates
Integrated with Google Cloud
Prices
Google Cloud CDN introduces the "pay-as-you-go" pricing model. You will be charged for bandwidth, HTTP / HTTPS requests, outbound cache bandwidth, and cache leaks. Visit the official Google Cloud CDN website for pricing
Amazon CloudFront is one of the services offered by Amazon through its Amazon Web Services platform. Amazon's CDN service is reliable and fast. With cutting edge technologies and strategically located servers around the world, Amazon is able to deliver good speeds to end users.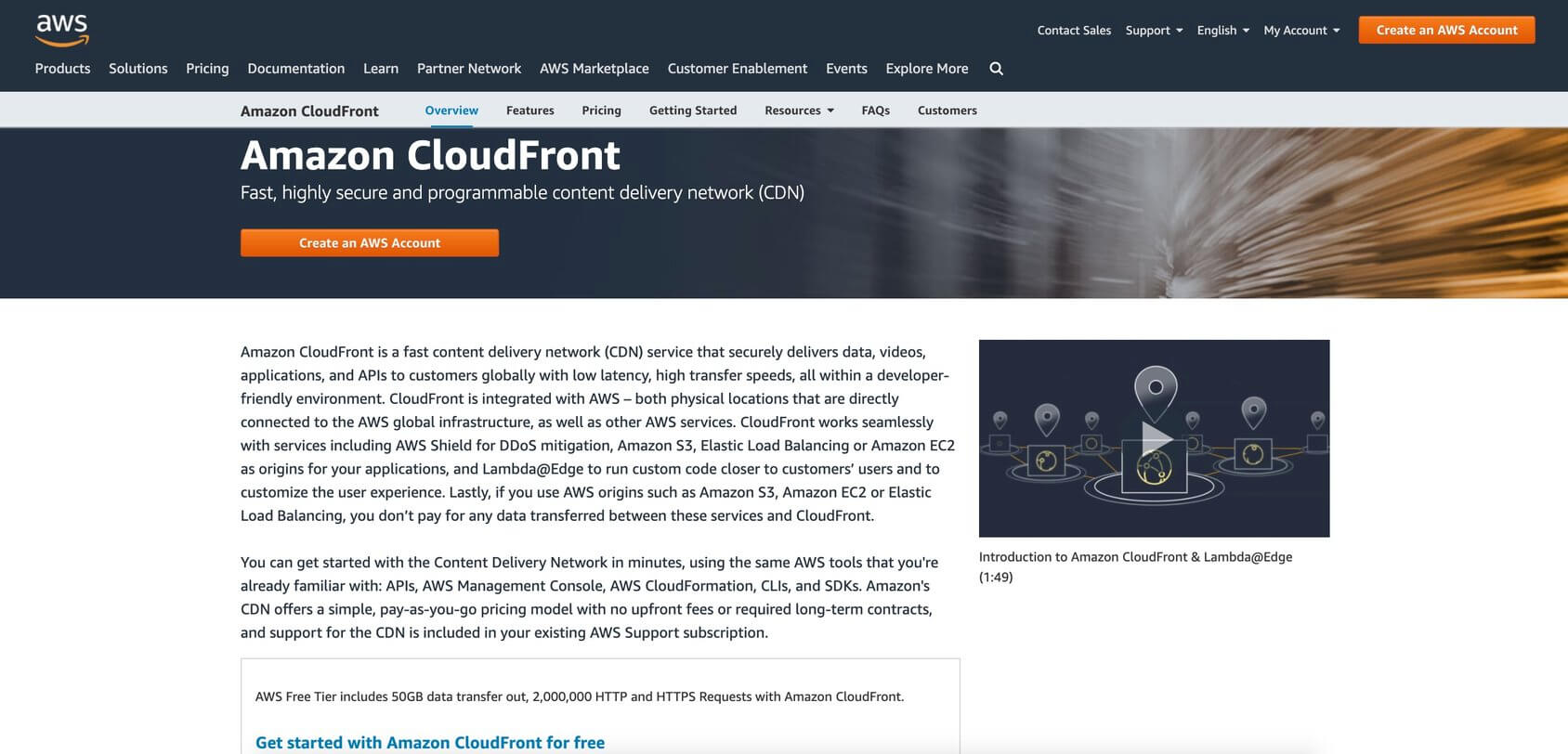 The platform can be used without changing the settings. However, for best results some configuration is recommended. There's even support for automatic GZip compression and deep scans. Please note that Amazon does not offer free technical support with its services.
Main Features
A global network of 216 points in 42 countries
High security (AWS Shield, AWS Web Application Firewall, AmazonRoute 53, HTTPS, SSL / TLS)
Source redundancy allows you to stream content even when the primary source is offline
Support for HTTP and WebSocket protocols
Full API
Price
Free tier: 12 months free, 2 million HTTP or HTTPS requests per month, 50 GB of data transfer
On Demand: Amazon's personalized pricing plans for each customer
8. Fastly — Highly configurable platform
Quickly belongs to the CDN heavyweight category. It is a robust platform with many configuration options. The settings will even let you choose your preferred methods for video caching, customize HTTP headers, and more. The dashboard can easily confuse novice users, which is why Fastly is the recommended CDN for tech-savvy people.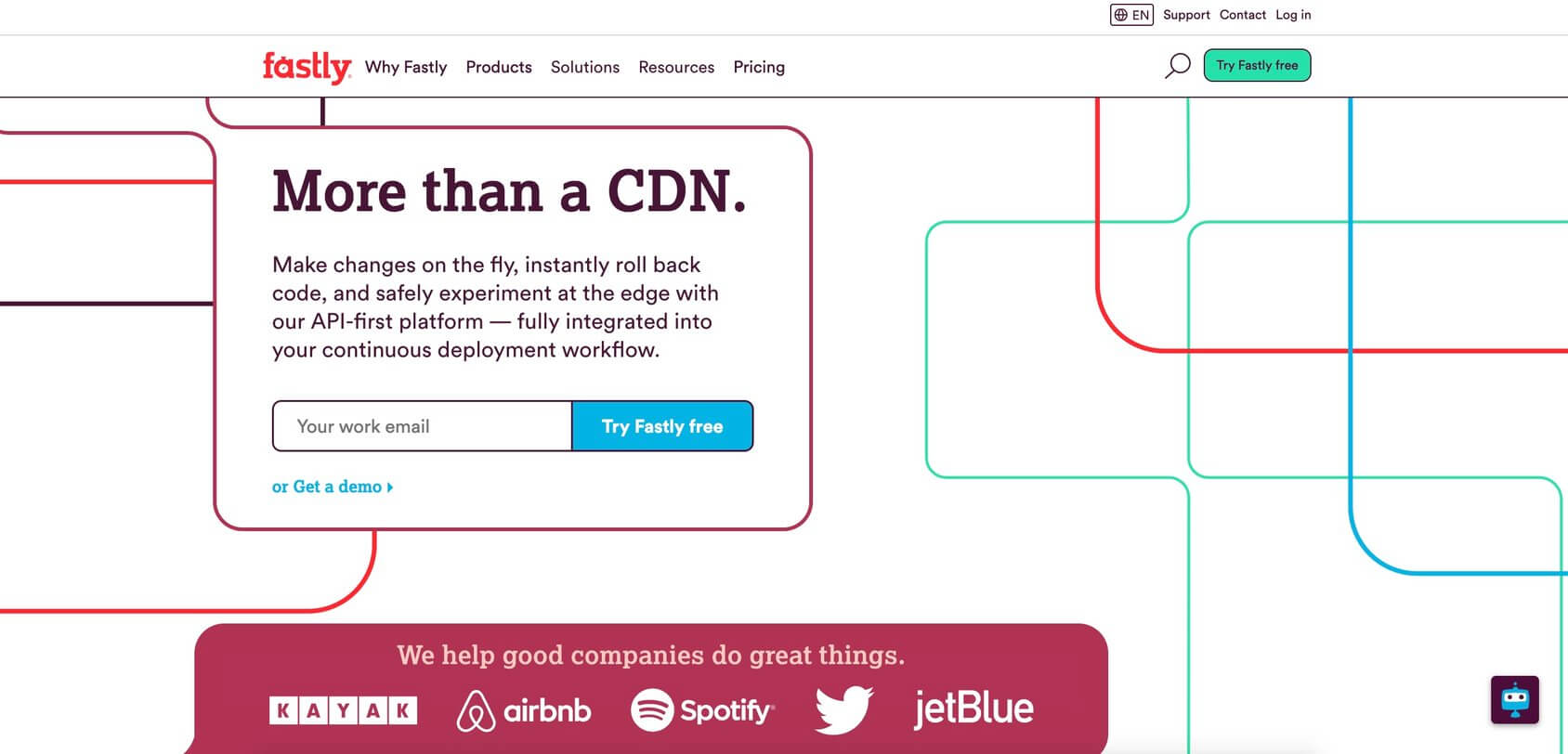 It quickly delivers maximum optimization and fast speeds which is why some of the biggest websites are using it including Reddit and Spotify. Considering the number of features, pricing, and free trial, this is one of the more affordable CDN providers.
Main Features
Servers with SSD technology strategically located in more than 40 cities on all continents
API access for better optimization
Support for HTTP / 1.1, 2, 3, QUIC, TLS 1.0, 1.1, 1.2 and 1.3
Extensive customer support, including knowledge base and live chat
Price
Free trial up to $ 50 in traffic
Fully customizable price plan – users have access to an online price calculator
9. MetaCDN — A synergy of three networks
MetaCDN is a service provider based in Australia. It harnesses the power of many of the best CDN providers to ensure fast download speeds and minimize downtime for its customers. MetaCDN uses the services of Fastly, Amazon CloudFront, and Verizon EdgeCast. With this approach, MetaCDN covers the entire world, increasing the chances that each user will have a server nearby.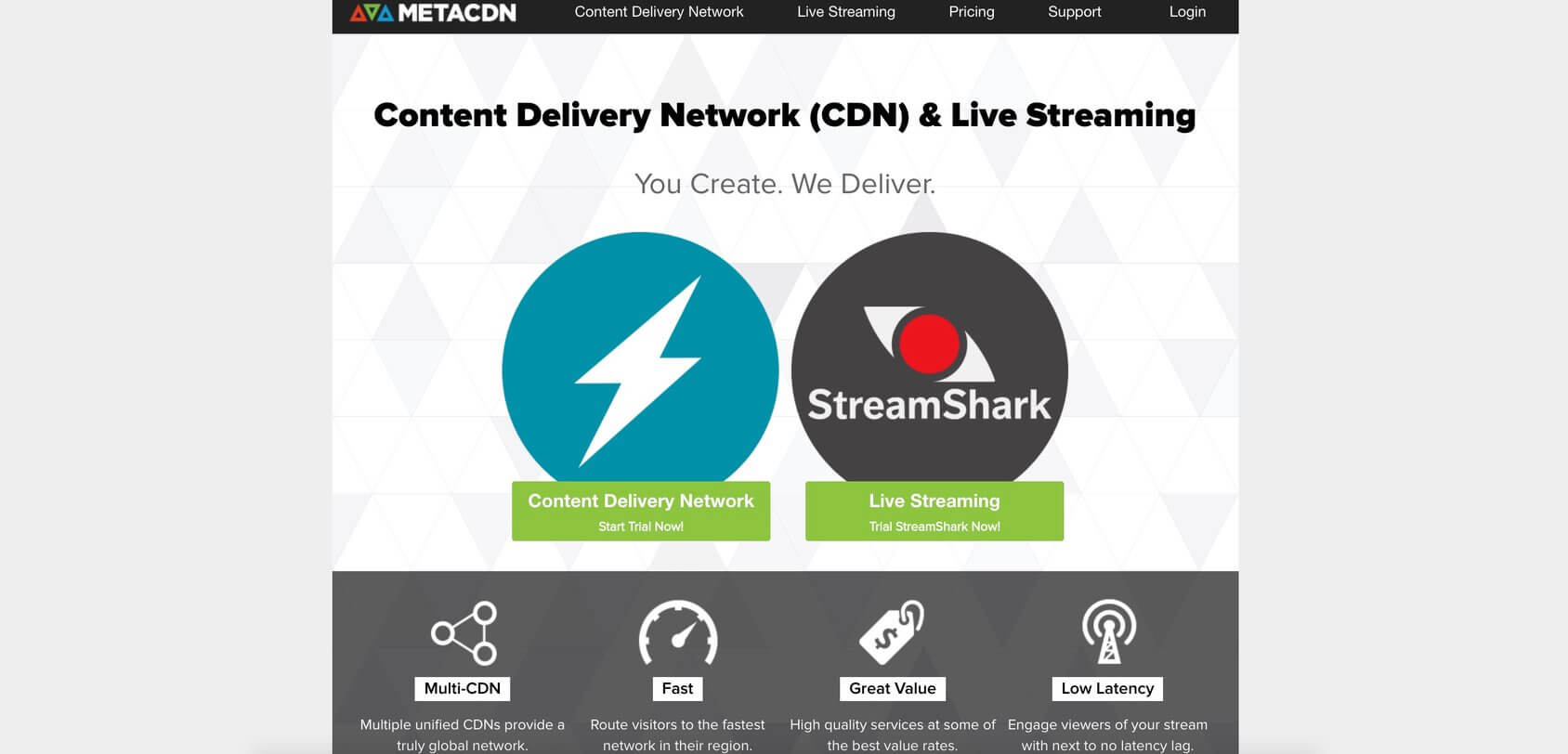 In terms of performance, this provider is one of the best. The servers are configured to automatically choose the optimal server for a user. For example, Fastly offers super-fast speeds to users in the UK. If a page request comes from a UK IP address, MetaCDN will deliver content from one of the UK servers on the Fastly network.
Main features
Three CDN leaders united under one roof
Consistent performance thanks to multiple redundant backup systems
Powerful analytics and reports
100% uptime guarantee
Price
Free trial, no credit card required
Basic – from $ 20 per month
Lite – from $ 50 per month
Pro – from $ 100 per month
10. Akamai — The best option for tech-savvy experts
Akamai has an impressive network of servers. It is one of the oldest CDN companies on the market. Its network currently consists of more than 275,000 servers located in more than 130 countries. The provider serves up to 30% of all Internet traffic. Powerful features, excellent customer support, and a plethora of customization settings make this provider a preferred choice among professionals.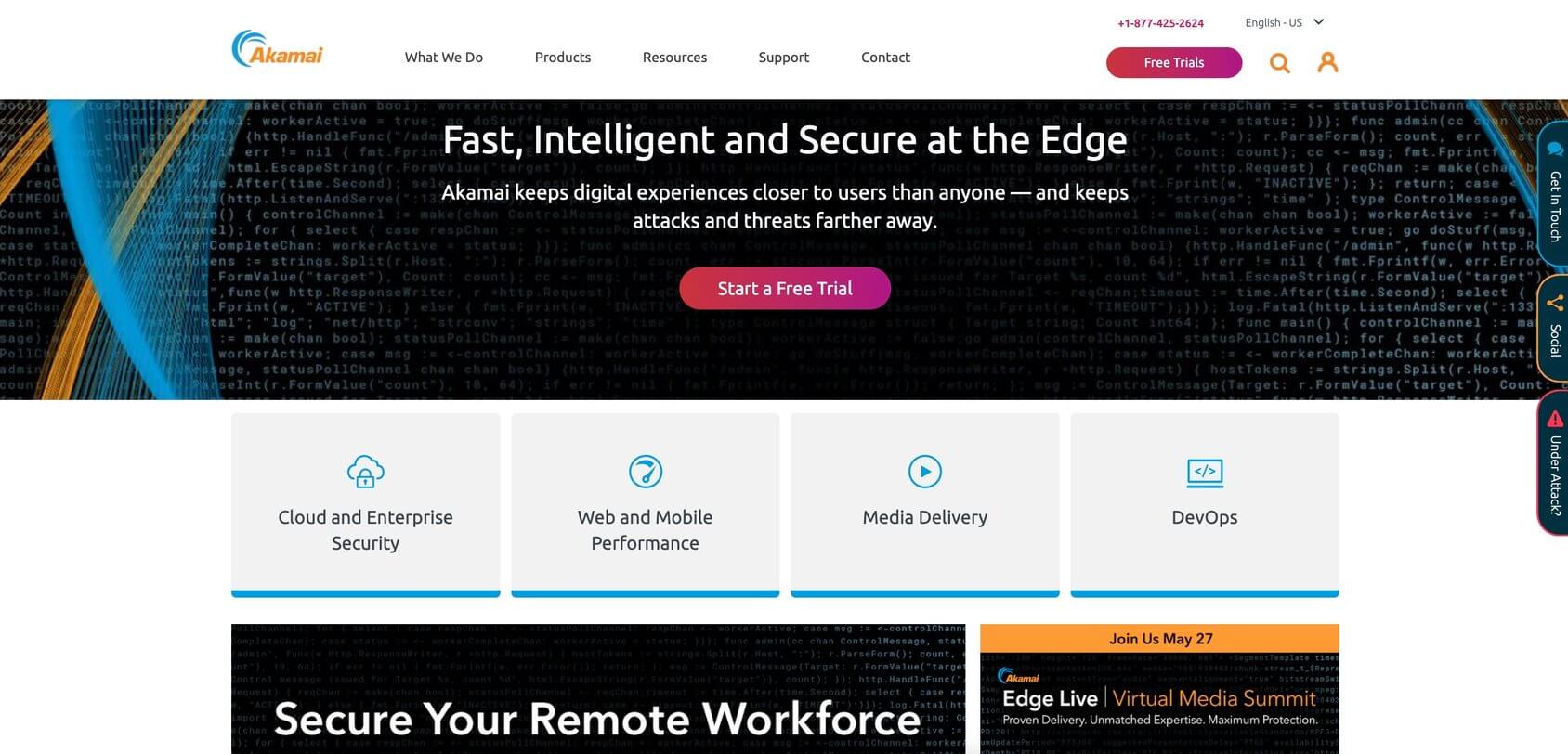 The dashboard is intuitive but complex. Simply put, Akamai caters to the needs of education experts, so they have a robust interface and plenty of customization options. The services are combined with excellent 24 hour customer support.
Main Features
Excellent CDN coverage
Cloud security, including DDoS protection
Fully customizable CDN service
Extended IP video support
Price
Akamai does not have a published price plan on the official website, so you will need to contact them directly to request a quote.
Best of the best
If choosing the right CDN sounds too complicated, don't worry, I can help. Below are the best CDN providers sorted by use case categories.
Best cheap CDN
The best free CDN isn't all in one sentence. If you are on a budget but still want to improve your website loading speed, the following two providers can help you do it cost effectively.
Price starts at $4 per month
KeyCDN is one of the best budget CDN companies on the market. A solid network with PoPs across the world, a user-friendly dashboard, and advanced features will help you put this CDN to use almost immediately. 
Best CDN for WordPress
Are you running a WordPress site? There are some of the best CDN providers with a special focus on WordPress users. You won't go wrong if you decide to go with a Cloudflare or a CDN77, as both are easy to integrate into a WP.
Cloudflare
Free / Price from $ 20 per month
Cloudflare is an easy to use CDN that integrates seamlessly with WordPress. You will be able to use it with your WordPress site even if you have never done a similar integration before. With a dedicated WordPress CDN plugin, Cloudflare is definitely a CDN option to consider.
Best CDN for images
Optimizing an image-rich website for speed is insane. Sirv and Optimole are providers that will help you deliver high-quality images to your end users at blazing speeds.
Sirv
Free / Price from $ 19 per month
Sirv CDN shines in two departments: ease of use and improving page load speed. The Sirv team worked hard to create a true imaging CDN. It comes with real-time image optimization capable of preparing your images for screens of all sizes.
Best CDN for video streaming
Optimizing the loading speed of video streaming sites is a real challenge, especially for live streams and high traffic sites. When it comes to the best content delivery network for streaming video, it doesn't get any better than Akamai and Limelight.
Akamai

Free trial / Contact for pricing
With its huge server network and high-end IT infrastructure, Akamai CDN can support your online video streaming operations. Akamai introduced support for IP video, providing an even better experience for end users.
conclusion
Top 10 Proven CDNs That Have Included Your Trusted, Trusted Businesses With A Long-Standing Reputation In The CDN World. You've probably noticed that even though they offer the same CDN service, they are still quite different. They use different technologies, offer single board user interfaces, and come with different features. If you can't decide which one to use, go back to my "Best of the Best" section, where you can find the best CDN for your specific use case.