While OptinMonster is a great tool, it is definitely a bit pricey, especially if you use it on multiple sites. In addition, it has other limitations in terms of the design and quality of its integration with WordPress.
Whether you're looking for a cheaper OptinMonster alternative or just a slightly different approach, we've got something for you on this list.
In total, we have collected 9 different OptinMonster alternatives. Some offer near feature parity, while others approach things in a different way. And yes, almost all of them are cheaper than OptinMonster too!
Why You Should Try OptinMonster Alternatives
OptinMonster is one of the most professional lead generation software that enables you to develop an email list for your business and improve the number of leads that come your way.
It helps you reach relevant customers and helps you increase your ROI. While this may be a fantastic solution for many, it may not work for some. Here are some reasons why people are looking for alternative tools to use.
Pageviews and limited sites
OptinMonster's basic plan starts at $ 14 / month, but only allows one site, limited to 3,500 page views. There are no unlimited pageviews with any of their plans, although sites similar to OptinMonster have you covered with unlimited views.
There are also limits imposed on the sites included in OptinMonster. You can add a maximum of five sites to your growth plan for $ 80 / month.
Functional constraints
If you look closely at your plans, Basic has a minimal set of features, which doesn't help you generate better leads. The $ 47 / mo Pro plan is the decent looking plan that has the most features. If you plan to use OptinMonster, this should be the definitive plan to start with.
No monthly billing
OptinMonster only allows registration for 12 months and no monthly billing is available. This can be a burden for small businesses that have to pay an amount up front. In such cases, people search for OptinMonster Alternative with monthly billing.
Best OptinMonster Alternatives
Therefore, we have come up with some of the finest OptinMonster alternatives listed below for you.
1. Thrive Leads
Thrive Leads is a popular WordPress list building plugin from Thrive Themes. It includes a number of features that OptinMonster has, such as a drag-and-drop visual model builder, integrations with popular email marketing services, built-in A / B testing, and a robust set of selection rules. / Trigger.
Key features of Thrive Leads
There are many types of registration forms, including pop-ups, screen fills, scroll mats, notification bars, and more.
Tons of pre-designed registration templates.
Drag and drop visual layout builder, based on the Thrive Architect page builder plugin.
Built-in A / B testing to compare different designs.
Strict segmentation rules.
Integrated analysis.
Integrations with 30+ email marketing services.
Many activation options, including exit intent.
Prices
Thrive Leads is only available in the premium version. You can get it as part of the all-inclusive Thrive suite, which costs $ 19 per month (paid annually).
OptinMonster Vs Thrive Leads
OptinMonster is a multi-CMS tool, while Thrive Leads is unique to WordPress. This means that if you are running a WordPress blog, Thrive Leads is enough to generate leads and conversions to improve your email list. The OptinMonster pricing takes into account e-commerce related features that are not typically used in blogging. So pick here and pick Thrive Leads over OptinMonster.
2. Bloom
Bloom is a mailing list builder from Elegant Themes, the developers of the popular Divi WordPress theme / plugin.
It helps you grow your email list with tons of prebuilt templates, over 19 email marketing integrations, and unique WordPress specific triggers.
It's not as flexible as OptinMonster when it comes to layout and orientation rules, but it has some cool features and is a great option if you want something a little simpler than OptinMonster. .
Key features of Bloom
Over 100 pre-designed pop-up templates.
Customize the text and colors of these templates (but not the drag and drop editor).
6 different types of pop-ups including sliders, inline forms, and content areas.
Page-level segmentation rules.
6 triggers (but no intention to exit).
Integrations with over 19 email marketing services.
Integrated A / B tests.
Built-in statistics and well-designed dashboard to display statistics.
Price
Bloom is part of the Elegant Themes subscription, which gives you access to all Elegant Themes products (including Divi and Monarch). You can purchase an annual or lifetime license. Both licenses allow you to use Bloom on an unlimited number of WordPress sites:
1 year license – $ 89
Lifetime license – $ 249
OptinMonster vs. Bloom
While OptinMonster is billed annually, Bloom comes with lifetime and annual pricing. Bloom is built on stylish themes and works on WordPress sites.
3. Convertbox 
ConvertBox is a combination of cloud platform and plugin. It integrates with your website using a plugin, but it works with the cloud. It's a great way to do things that work well in the right situations.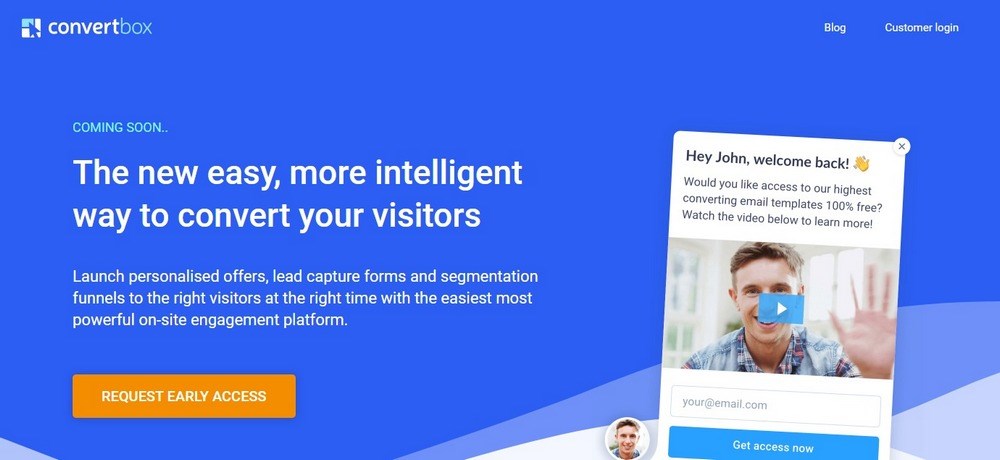 ConvertBox comes with a variety of forms and form types, detailed report tracking, smart targeting tools that can use visitor activity to invite forms, funnels, and other important tools. There is also an A / B testing tool that you can use to refine your approach.
ConvertBox is great if you've tried OptinMonster and want something new with a little more control.
Main features of the ConvertBox:
Combination of cloud and plug-in approach
Several layouts and types of forms
Drag and drop form builder
Smart targeting using data or behaviors
A / B test tool
Price
ConvertBox costs $ 495 for a lifetime license. Other prices may be announced at a later date.
OptinMonster Vs Convertbox
Convertbox is the best version in the WordPress industry that comes with a lifetime price tag. Similar to OptinMonster, Convertbox works with any CMS, not just WordPress. The main USP of Convertbox on OptinMonster is the huge limits, be it monthly pageviews, de-branding and unlimited convertbox.
4. OptiMonk
Unlike all of the previous OptinMonster alternatives on this list, OptiMonk is a platform independent tool just like OptinMonster. That is, it is not a dedicated WordPress plugin, although it does integrate with WordPress and other platforms.
However, unlike OptinMonster, OptiMonk specifically focuses on helping e-commerce stores.
So, if you have an ecommerce store, you will benefit from a lot of great features to help you grow your lists, increase your income, and reduce cart abandonment.
If you don't use an online store, you probably prefer another tool from this list.
Key features of OptiMonk
Over 200 predefined templates.
Drag and drop visual pop-up editor.
Cart abandonment detection.
Targeting rules based on items in a buyer's cart (and many other rules as well).
Add notification bars to the cart.
Many trigger rules, including exit intent.
Different types of pop-ups including pop-ups, full screen, nanobar, lucky wheel, and scratch cards.
Integrated analysis.
Integrated A / B tests.
Integrations with the most popular ecommerce platforms including WooCommerce, Shopify, BigCommerce, etc.
Price
OptiMonk offers a free plan limited to 3000 pageviews per month. After that, the paid plans start at $ 29 per month, although you get access to different features depending on the tier you choose.
Unlike other tools, OptiMonk is slightly more expensive than OptinMonster. However, these additional ecommerce features are probably worth it if you use them correctly.
OptinMonster vs. OptiMonk
OptinMonster and OptiMonk excel in the exit intent pop-up generator. But OptinMonk comes with campaign targeting and triggers like geo targeting, dynamic text replacement, cart / form abandonment, and behavior automation that you normally don't find in OptinMonster.
5. Convert Pro
Convert Pro is probably the most 1: 1 OptinMonster alternative on this list. Basically if someone took OptinMonster and ported it to a WordPress plugin, it would probably look like Convert Pro.
You get access to a drag-and-drop visual interface, built-in A / B testing, some of the most detailed targeting rules on this list, and plenty of pre-built templates.
Overall, this is definitely one of the best OptinMonster alternatives on this list.
Key Features of Convert Pro
Pre-defined contextual models.
Drag and drop visual design interface.
Detailed targeting rules including page level targeting, referral detection, etc.
Many triggers, including the intention to leave.
Integrated A / B and multivariate tests.
Integrations with over 35 other services including big names like Mailchimp, Aweber, etc.
Dedicated mobile layout editor to control responsive layout.
Integration of Google Analytics to track your statistics in Google Analytics. You can also import this data into WordPress so that you can see it in your WordPress dashboard.
Price
While Convert Pro has many similarities to OptinMonster, one big difference is the price – Convert Pro is a lot cheaper, especially if you plan to use it on multiple sites.
Convert Pro offers one year and lifetime licenses. Either way, you will be able to use Convert Pro on an unlimited number of websites which is great value for money if you are using multiple sites. Here are the timetables:
One year license – $ 99
Lifetime license – $ 399
Optinmonster Vs Convert Pro
Convertpro is the affordable alternative to OptinMonster which was developed by the team behind Astra Theme. Convertpro is also performance based and loads faster than OptinMonster. However, Convert Pro is a WordPress plugin only while OptinMonster works with any CMS.
Icegram comes in two versions: a limited free version at WordPress.org with basic functionality and a premium version with much more flexibility.
Since you are looking for an OptinMonster alternative, you will probably be more interested in the premium version as it offers better feature parity with OptinMonster at a slightly lower price.
For this reason, I will focus on the premium version.
Main features of Icegram
Over 100 pre-defined pop-up themes.
Integrated statistics.
Many trigger rules, including exit intent.
Integrated A / B tests.
Geographical orientation.
Page level orientation.
Price
Like ThriveThemes, Icegram works with annual licenses. But there are differences:
If you don't renew your license every year, you won't benefit from the updates.
If you are sure that Icegram will work for you, you can purchase a lifetime license for $ 249.
You can try the plugin for free using its free version.
Icegram vs. OptinMonster
Icegram is very different from OptinMonster:
First of all, it's just a WordPress plugin. To use it, you need to configure your app on your WordPress site. You also create the campaigns directly in your WordPress admin.
Icegram is not as sophisticated as OptinMonster. Its user interface is more basic and includes fewer design and orientation options.
Its pricing model based on licenses without traffic limits could be interesting if your website generates a lot of visits.
Finally, we have Popup Maker, which is an extremely popular WordPress specific popup solution. According to WordPress.org, it is active on more than 600,000 sites while maintaining an impressive 4.9 star rating in more than 4,000 reviews.
Popup Maker really excels when it comes to WordPress-specific trigger / targeting rules, although its pop-up design interface isn't as user-friendly / flexible as OptinMonster.
There is both a free version on WordPress.org and a number of premium extensions.
Popup Maker Key Features
Multiple pop-up display locations, including notification bars, floating pop-ups, slides, and more.
Integrations with popular WordPress form plugins like Ninja Forms, Gravity Forms, etc.
Integrations with popular email marketing services, including Mailchimp and Aweber.
Detailed targeting rules, including WordPress specific terms.
Many trigger rules, including exit intent.
Plugins for different popup uses including age barriers, login popup, idle logout, etc.
Analytical.
Price
Popup Maker's pricing model is quite similar to Icegram's:
They offer a free version.
If you want more features, you can pay for an annual license (with three levels).
If you do not renew your license, you will lose access to updates and support.
Pop-up creator vs. OptinMonster
This is what differentiates Popup Maker from Optin Monster:
Popup Maker is just a WordPress plugin. So if you are not a WordPress user, you can cross it off your list.
Its pricing model makes it attractive if your website receives a lot of visits because it does not have a traffic limit.
But honestly, I don't think this plugin compares to OptinMonster – it seems too basic.
When to choose OptinMonster?
OptinMonster is a great place to start as affordable lead generation software. It works not only for WordPress but also for most other CMS. If you use their exclusive features like MonsterEffects and MonsterSounds, stick with OptinMonster for better leads.
When not to use OptinMonster?
If your site is on WordPress, choose Thrive Leads. It comes with the most essential features needed to generate leads from WordPress sites. If you need a tool that only generates pop-ups, choose Bloom.
conclusion
So these are some popular OptinMonster alternatives that you should check out to take advantage of beneficial low-cost services for your lead generation efforts.
Review them all and choose the one that best suits your needs and budget.
Is OptinMonster any good?
"OptinMonster is a Nice tool to use in your website"
Most used feature here in our team is Create Campaign like "popup on exit intention" or visual intervention when scroll when leads visits more then 5 pages… (criteria/triggers feature) And other examples..
What is OptinMonster plugin?

OptinMonster is the best lead-generation plugin for WordPress, used by over 1,000,000 websites. It allows you to create beautiful attention grabbing optin forms that are proven to boost conversions. Our goal is simple: Help you turn more of your website visitors into email subscribers and customers.
Is OptinMonster free with WordPress?
The OptinMonster for WordPress plugin is available for download free from the WordPress plugin repository. It includes a free subscription (up to 500 campaign impressions a month and two campaigns). … To access even more powerful options for growing your list, leads and sales, upgrade to OptinMonster Pro or Growth.