Are you a WordPress newbie wondering what Managed WordPress Hosting is?
If you're like most people, you've probably wondered: why is there such a big difference in price? Is Managed WordPress Hosting Really Much Better? Do i need managed WordPress hosting for my site? Is Managed WordPress Hosting Worth The Cost? If so, which is the best managed WordPress hosting company?
In this article, we'll highlight the pros and cons of managed WordPress hosting. We will also compare the best managed WordPress hosting companies using benchmarks. You can use our research, knowledge, and experience to decide which WordPress hosting company is right for you.
What is Managed WordPress Hosting?
Managed WordPress hosting is a concierge service where all technical aspects of running WordPress are handled by the host.
This includes security, speed, WordPress updates, daily backups, website uptime, and scalability.
The idea behind managed WordPress hosting is to provide a completely hassle-free experience, so you can focus on running your business and doing what you're good at.
One of the best aspects of managed WordPress hosting is the premium support. Their support is provided by real, experienced WordPress experts rather than someone reading a support manual.
Customers describe managed WordPress hosting as "a five star WordPress hotel" and "having an army of WordPress experts by their side."
Why Would I Need Managed WordPress Hosting?
Many website owners wonder if managed hosting is worth the extra money, but if you have big plans for your website, that makes perfect sense. Here are the benefits in more detail:
Optimized specifically for WordPress
The servers are refined and optimized for WordPress only. A specialized service is always better than a general service.
Automatic updates
The software behind your site is automatically updated to the latest version, so it's always at the highest level of performance. There is no need to check and install updates manually.
Bulletproof security
Security is perhaps the biggest incentive to switch to a managed WordPress host. Automatic updates and the specialized hosting environment mean you're better protected against hackers and other security issues. As you will see, most hosting platforms perform regular security checks and can actively remove malware.
Super speed
A slow website can negatively affect your sales, conversions, and user experience, but speeding things up manually takes a lot of effort and skill. The best hosting uses built-in caching and (often) provides a CDN to automatically increase your website speed.
Automatic backups
Managed WordPress hosting platforms typically offer daily backups. You can sleep soundly knowing that you won't lose your website if the worst happens!
24/7 assistance
It's always good to know there's an expert on the phone if you start getting unexplained 505 errors. Managed hosting packages usually include access to premium support service so you can skip the lines and talk with real developers.
Flexible and scalable for high traffic
Managed hosts can handle significantly more traffic and bandwidth than a shared host. If you get a sudden spike in traffic, your site won't crash.
The Downside Of Managed WordPress Hosting
Of course, managed hosts aren't for everyone. There are a few features that may put you off:
Cost
They are more expensive than shared hosts. You can expect to pay anywhere from $ 15 to $ 60 per month for a managed host, while you can buy a shared host for as little as $ 1.99.
You can only use WordPress
It might sound like a no-brainer, but it's worth pointing out! If you also run websites on Joomla or Drupal, there is no point.
Lack of control
The beauty of managed hosting is that it is self-sufficient. Update, manage and modify everything to automatically improve performance. If you're the type of person who likes to dig around, try things out, and make changes on your own, this can be restrictive as access is sometimes limited.
Plugin restrictions
Some managed hosts prohibit the use of certain plugins. Because? Plugins consume precious resources and slow down performance, so some hosts ban the ones that consume the most resources. That said, most managed hosts come with the best plugin features already built in (like caching, backups, etc.)
Is Managed WordPress Hosting Right For Me?
For small websites and those just starting out, managed WordPress hosting can be overkill. In this case, simple shared hosting or optimized WordPress hosting may suffice. With that said, I still recommend managed hosting for both beginners and professionals. It is ideal for:
Bloggers or businesses who want to focus on managing their site, without worrying about behind-the-scenes updates, backups, and technical details.
Anyone planning to increase their traffic quickly and regularly sees spikes in visitors.
Any website that can't afford any downtime.
Anyone who appreciates great support.
Top Managed WordPress Hosting Providers in 2022
WP Engine hosting is one of the best managed options available. The price is a bit higher than other managed hosting providers, but that's because the company emphasizes great support, fast load times, and more secure servers. It has a team of WordPress experts who will keep your site fast and secure and is one of the most popular hosting companies. I mean, brands like Pandora, Reuters, and Yelp are using it!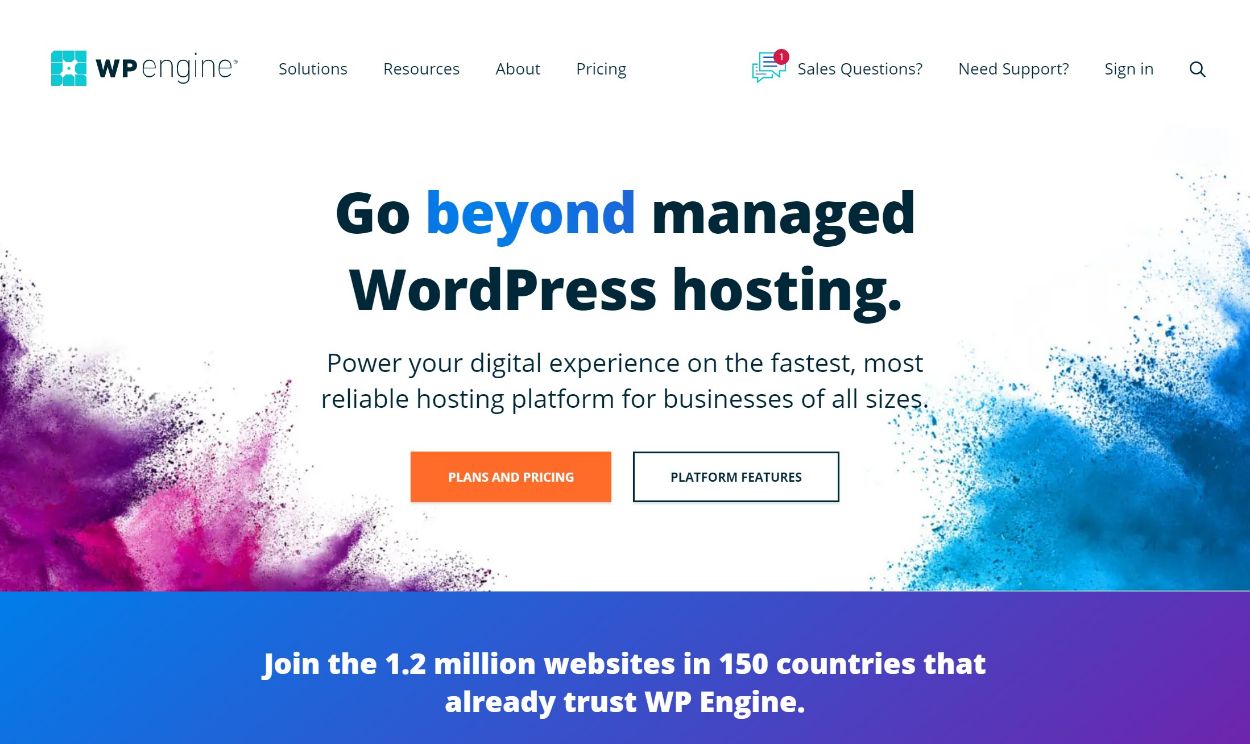 It also has a one-click backup and restore process included with all hosting plans. WP Engine will analyze and monitor hack attempts and if your site is hacked, the company will fix it for free.
Main Features:
Fast performance: WP Engine gives you the cloud infrastructure of Google Cloud, along with your own custom caching solutions and a built-in CDN.
Custom Dashboard – WP Engine's custom hosting dashboard makes it easy to manage your site.
Staging Zone – Creates a copy of your live site, so you can try out new themes and plugins before applying changes to your live site.
Automatic backups: WP Engine backs up your site every day. If something goes wrong with your site, theme, or plugins, you can use the one-click restore point to revert to what it was when everything was working.
No Cache Plugins Required – WP Engine's custom EverCache solution optimizes your site with Varnish and Memcached.
Malware Scans – WP Engine regularly runs malware scans and if your site is hacked, the company will fix it for free.
Prices:
WP Engine plans start at $ 25 per month (billed annually) or $ 30 per month (billed monthly) for one site, 25,000 visits, and 10GB of storage. Prices go up from there and there are business plans as well.
Pros
Excellent performance with very fast load times, even on a small scale.
Integrated caching and CDN.
Free access to Genesis Framework and StudioPress child themes (we use Genesis on WPKube).
High quality support via live chat or phone.
Cons
No email hosting.
It has a fairly long list of banned plugins; be sure to check it out.
What's Wrong With WP Engine
It's more expensive than many competitors (Exclusive Offer! 20% Off First Bill – From $ 19.33 / mo), but they back you up with solid service and reputation.
WP Engine has a list of banned plugins, which are worth checking out before committing.
24/7 support is only available to premium customers.
Flywheel has been designed with designers and creatives in mind, offering managed accommodation specifically tailored to your needs. It's more than just a hosting provider and instead focuses on optimizing the workflow for web designers around the world. Some particularly cool features include easy collaboration, billing transfers to your customers, and transfer sites. In addition, you can manage all your sites from one attractive dashboard.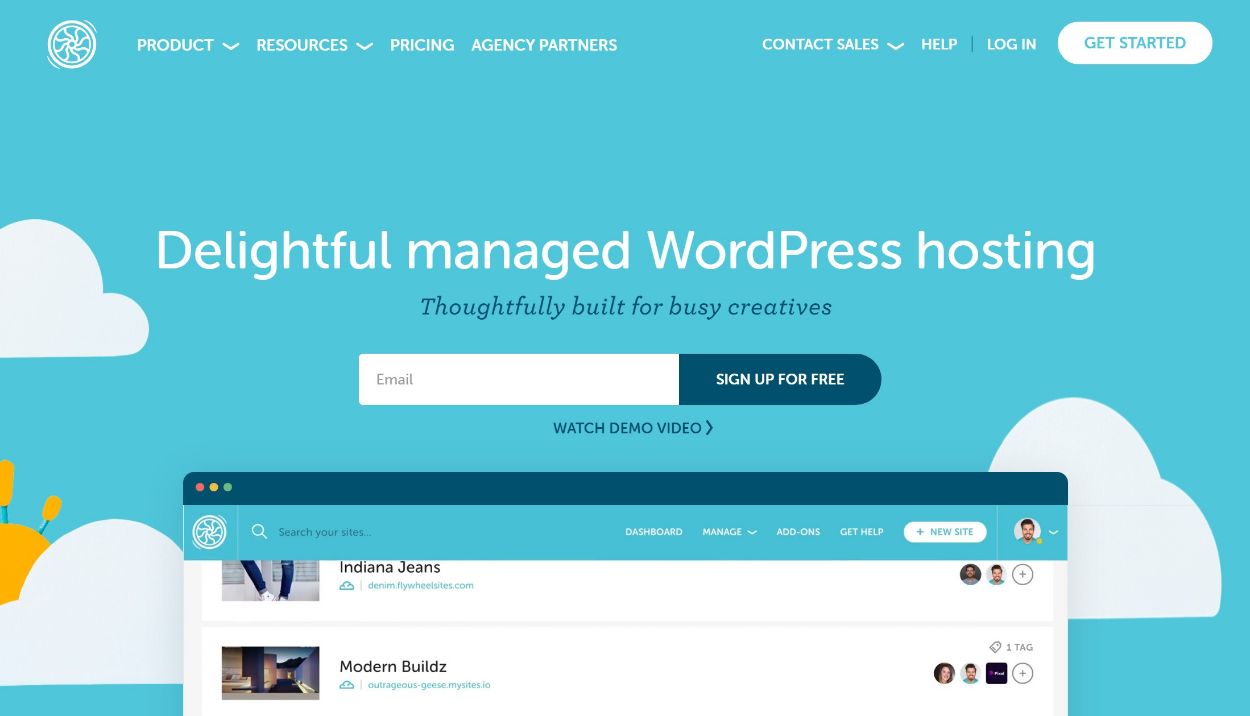 The Flywheel support team is made up of WordPress experts, many of whom are designers, so your bigger issues will always be in the hands of the experts.
Main Features:
Lightning Speed ​​- Designed specifically for WordPress sites, so it takes into account several factors that can affect speed. CDN is available.
Nightly Backups – Your sites will be automatically backed up every night so you can rest easy.
24/7 Security: Flywheel continuously monitors your sites for hack attempts and malware and will fix any issues that are discovered free of charge.
More Intuitive SFTP – Collaborating with other designers and working on client sites has never been easier.
Agency Features: Flywheel offers advanced features for agencies and freelancers who build client sites, such as Flywheel Growth Suite.
Price:
Flywheel plans start at $ 15 per month for one site, 5GB of storage, and up to 5,000 monthly visitors. There are also agency plans for managing customer sites.
Pros
Fast page load times.
Easy scalability.
Excellent support.
Useful features for agencies, like Flywhee's Growth Suite (which is quite unique).
Well-designed dashboard.
Cons
No email hosting.
It could continue to transform into a WP Engine if standardization continues.
3. Kinsta
Kinsta's main selling point is that it works with Google Cloud, which they say makes them faster than their competition.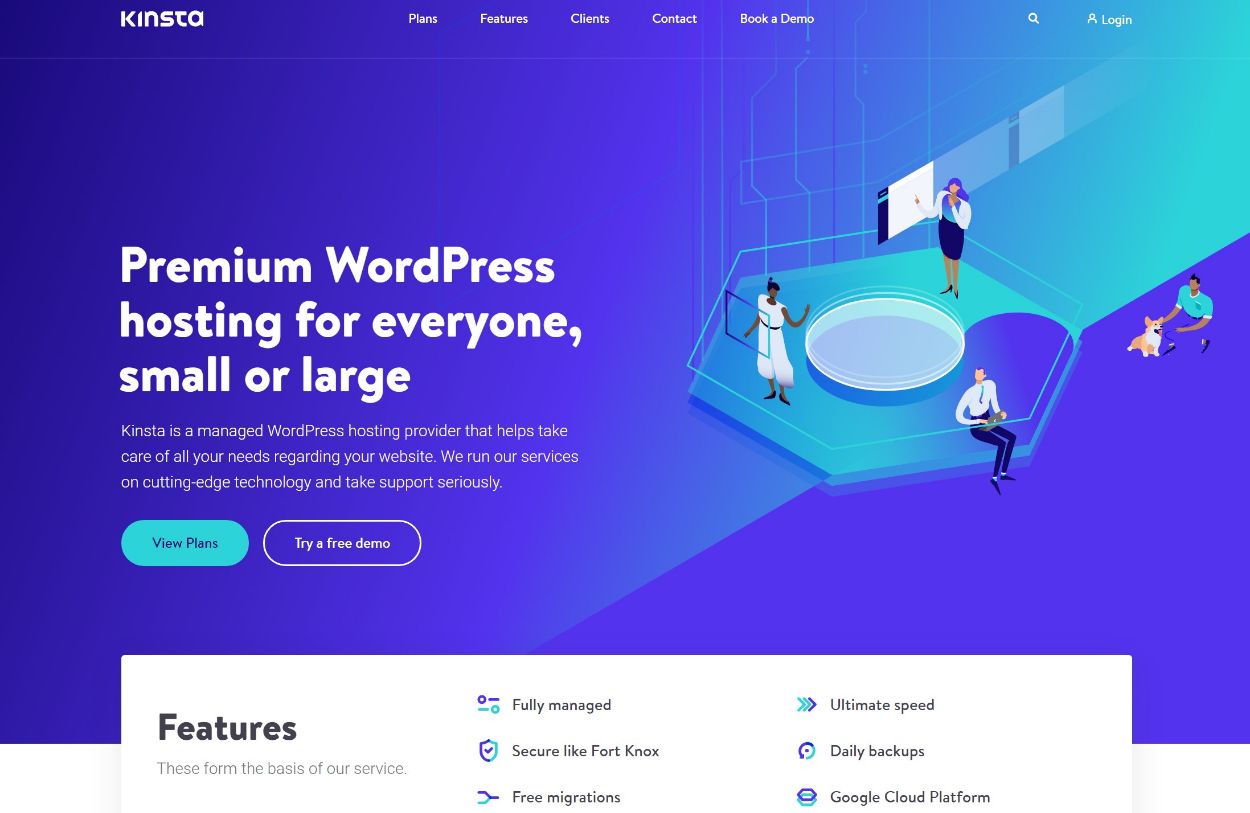 Kinsta scores a solid A + and provides lightning-fast response across the United States. They're also the host of choice for Ubisoft and Asos, so they're no stranger to discerning customers.
Their smallest package is $ 100 $ 30! – Updated January 2018 – so Kinsta is really only an option for larger businesses and sites.
But if you need that much power, Kinsta has it on hand. The service checks your website once per minute for security and support. You can choose your own CDN and have all the development tools you could possibly need (including a beautiful, intuitive and personalized dashboard).
Main Features:
Custom Hosting Dashboard – Kinsta's custom hosting dashboard is very easy to use and makes it easy to manage your site / server.
Smart Staging / Storage Features: Kinsta automatically backs up your site every time you go from staging to production, making it easy to roll back changes if needed.
Performance Driven Architecture: Kinsta runs on the premium tier of Google Cloud Platform and includes the latest technologies like NGINX, PHP 7+, LXD containers, MariaDB, HTTP / 2, etc. You also get Amazon Route 53 Premium DNS and KeyCDN credit at no additional cost.
24/7 Live Chat Support: Kinsta offers 24/7 live chat support through the ubiquitous intercom widget.
Stronger Security: Beyond firewalls and DDoS detection, Kinsta also adds WordPress login hardening, uptime monitoring, and many other important security features.
Free Migrations: Kinsta offers unlimited free migrations from either WP Engine or Flywheel. Otherwise, the number of migrations depends on your plan.
Price:
Kinsta plans start at $ 25 per month billed annually or $ 30 per month billed monthly for one site, 25,000 visits, and 10GB of storage. The entry plan is identical to WP Engine in terms of price and limits.
Pros
Very fast performance, especially below the scale.
Well-designed personalized dashboard with useful tools.
Excellent support available through the easy to use Intercom widget.
Cons
No email hosting.
No phone support (read Kinsta's reasoning here).
4. SiteGround
SiteGround is one of the top-rated hosting companies in the WordPress community. They offer unique in-house performance optimization and security which is why they're one of the officially recommended WordPress hosting providers.
Here are our results for SiteGround performance test:
With the GoGeek package, you get a 1-click staging area and Git for WordPress pre-installed. It will also unlock premium tech support and your SuperCacher, which will give you speed boost.
SiteGround says there is "virtually no wait time" for phone and chat support and only ten minutes of first response time for ticket requests. We found it to be true.
Price:
SiteGround's entry-level option is the cheapest on the market ($ 4.99 per month!), And it comes with automatic updates and daily backups. It's great for newbies, but most will want the "GoGeek" package (which is still quite affordable at $ 14.99).
pros
Awesome WordPress compatibility, excellent uptime, incredible speed, and free SSL.
They are among the officially recommended WordPress hosts.
Free site migration
Cons
No free domain
The entry-level option is more limited than the competition, but the price reflects it.
It's not really fully managed WordPress hosting, but the features offered are pretty much the same.
Bluehost is one of the world's most popular hosting companies and an officially recommended WordPress hosting provider.
Let's take a look at the results of our Bluehost benchmarks. Note: This is not your typical Bluehost shared hosting. This is an optimized WordPress hosting product that works with your VPS infrastructure.
We first tested our test site on the Bluehost servers to check the speed.
As the screenshot shows, our test site loaded in less than two seconds. That's faster than 85% of all websites tested. Considering that the test site did not use any performance optimization plugins, this result is very good.
After that, we performed the load impact test on our Bluehost test site. This test allows us to see how our test site would perform during peak traffic.
We gradually went to 100 unique visitors at a time to see how the server handles the increase in requests from multiple connections at the same time.
Price:
Basic – The Basic plan only allows you to host one website. It hosts one domain and 25 subdomains, 50 GB of SSD storage, 5 email accounts with 100 MB of disk space for each account. During the first trimester, you will pay $ 2.75 per month. When you renew the account, you will need to pay $ 8.99 per month.
Plus: The Plus plan includes unlimited websites with unlimited web space and bandwidth. You will also get unlimited email accounts. The first quarter price starts from $ 4.95 per month. When you renew the account, you will need to pay $ 11.99 per month.
Choice Plus: The Choice Plus plan includes all the features of the Plus plan. You'll also get free domain privacy and automated daily backups powered by CodeGuard as extras worth over $ 80 / year. The price for the first quarter is $ 5.45 per month. When renewing, you will need to pay $ 16.99 per month.
Pro: The Pro plan starts from $ 13.95 per month during the first quarter, after which you'll pay $ 23.99 per month. It includes all the features of the previous plans + a dedicated IP address.
Pros
Their hosting plans are available for most users, especially those who are just starting out.
They power a large number of websites with minimal downtime.
There are no hidden charges when creating your account.
You get a free domain name for the first year when you sign up.
For each website, you get a free SSL certificate and a free Cloudflare CDN to block malware and improve security.
They offer a 30 day money back guarantee on all plans.
Cons
Your free domain renewal price is above average.
They have an aggressive upselling process during signup. But you can easily uncheck all plugins if you don't need them.
Conclusion
If you need managed WordPress hosting, let's talk about your best options.
Even within the managed WordPress hosting space there are many variations, so the best option for you depends on whether you are looking for the "best of the best" or are willing to compromise to save money. silver.
If you want the best of the best, I recommend starting with one of these three hosts:
WP Engine (use our 20% discount coupon)
Flying
Kinsta
All three are leading vendors offering exceptional performance, reliability, features and support. Before making a decision, think about what price, features, and level of customer support are best for your website.
Can you build a WordPress site without hosting?
Yes, you can create a WordPress site without hosting. … The basic versions are all free and will allow you to create a WordPress site without any type of hosting. You can even create a WordPress site without the domain name, if you want to use these methods. The first way to do this would be to download software
What's the difference between managed WordPress and hosting?

Shared hosting is just a type of hosting plan where your site "shares" resources with other sites on the same server. Managed WordPress hosting is a set of added services and performance tweaks that sits on top of regular hosting.
Does WordPress host your site?

Yes, WordPress does hosting on WordPress.com and has both free and paid plans available. When you host directly on WordPress.com there are no upfront costs, and you will not need to purchase a separate domain name. WordPress will be automatically installed and kept up to date for you.