Work with Laravel, if you want to save time and money and don't have to start from scratch; use Laravel's collection of out-of-the-box admin templates to save developers time and effort. Before we get to know Laravel models, let's look at a brief introduction to the Laravel framework:
Laravel is a PHP framework that allows developers to create web solutions following the architectural model of model-view-controller (MVC) software. By providing programmers with a number of useful functions, Laravel makes the process of building websites and applications easier.
A template usually comes with a lot of components and the freedom to customize everything. We've put together a useful collection of free Laravel templates and panels so you can start building your web app right now.
Best Laravel admin templates
Datta able -Laravel admin dashboard
Datta Able admin template created under the Laravel framework to satisfy any simple or complex dashboard need. The model comes with a light dark version that is easily accessible. Datta Able provides all possible pre-defined admin template layouts. Which gives you the best option to select the backend template you need for your projects.
Features:
More than 120 well designed pages
More than 30 advanced designs
Fast charge
Live Customizer
Responsive and retina ready
Argon Dashboard Laravel is a tBootstrap admin panel for the Laravel framework.
This package combines well-designed interface templates with a built-in Laravel backend. The color options in this set of templates have been designed to make your admin area or dashboard look bright and vibrant, so if that's something you love, Argon Dashboard Laravel might be for you. exactly what you are looking for.
The sample pages that come with this template pack are great for getting inspired or giving you something to show clients without having to code anything yourself. You can use them as is or customize them as much or as little as you like. The Argon Dashboard Laravel developers have done their best to ensure that you are not limited in any way when using their product.
As the templates that come with Argon Dashboard Laravel include a design goal, this pack can be useful if you are looking for something that can help you promote your SaaS application or product, as well as build your dashboard and area administration. With 16 different page templates in the free Argon Dashboard Laravel package, you should find a wealth of content to help you get started with your project.
To make sure your pages not only look great, but also have a lot of useful features, the free version of Argon Dashboard Laravel comes with 100 items and four plugins. Thanks to this, adding icons, charts, graphs, and tables to your pages is simple and easy.
The instructions provided with Argon Dashboard Laravel are very clear and easy to follow. For this reason, whether you're new to using Administrative Templates or just need a quick refresher, Argon Dashboard Laravel should be a good choice.
This free Laravel admin template has a thoroughly modern design and competitive feature set.

Angular PHP Laravel Starter
Starter Bundle is the minimum subsistence level of Angular ngx-admin built into PHP 6 Backend and Laravel 7.3+ framework. It contains JWT authentication for the user interface and the main and core user management components, Nebular 6.0 and Eva Design. This PHP Laravel admin panel template is perfect for building internet of things, e-commerce, CRM, ERP, CMS (content management system), data analytics platforms and other complex solutions.
Features:
ngx-admin template with over 100 Nebular and Eva UI design components
JWT token authentication is implemented and integrated on both client and server side
Basic role management and access control list are in place, AUTH, password reset.
Layered architecture of the backend solution and project segregation
Swagger included for automatic API testing and documentation
Documentation included
Docker and Docker-compose configuration included
MySQL database
3 months of free updates
Materialize has a good selection of demos to help you get started with your admin area or dashboard.
If you are looking for a high-quality template library for your out-of-the-box project, then Materialize is highly recommended. The demos for this premium Laravel and HTML admin template pack should contain everything you need for most projects, including predesigned pages and features. Once you open one of the Materialize demos, you will see that these are fully formed packages that will allow you to complete your admin area or dashboard.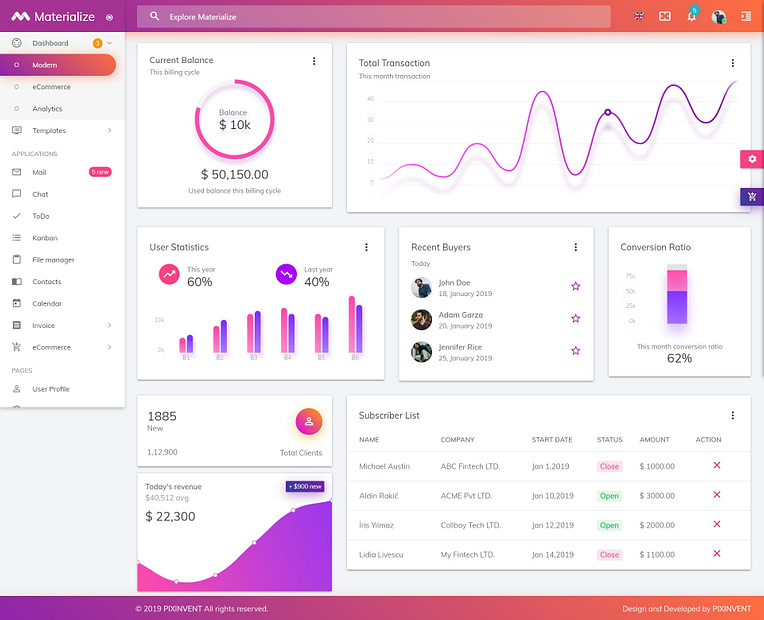 All Materialize demos include many pages to use on your dashboard. Each also has many widgets, components, and element.items that you can keep or remove from pages as needed. In addition to being well designed, all of Materialize's features have been designed to be easy to use. So whatever skills your users have, they should be able to get the most out of their dashboard or admin area.
There's no shortage of apps with this set of HTML and Laravel admin templates. Some examples of these applications that you can add to your dashboard if you choose Materialize include messaging, chat, and calendar tools. There are also a few options for adding a task manager to your dashboard, including a to-do list view and a Kanban option. Adding a file manager, contact manager, and billing system to your dashboard is also covered by the core functionality of Materialize himself.
With a long list of features and over 6000 sales, Materialize is a popular Laravel template set.
Features:
Best selling model
Developer friendly dashboard / admin template
Five unique layouts with different menu locations
Good for CMS, SAAS, CRM, HRMS, e-commerce and more
Laravel RTL and multilingual support
Bread crumb line aligned from left to right
Black Dashboard Laravel
Black Dashboard Laravel is a free Laravel admin template that allows software designers and developers to build beautiful web applications, from prototyping to programming, faster.
It includes 16 fully implemented components and 3 custom plugins designed to speed up your development. And make everything awesome in the process. The dashboard combines pleasing colors, spacious maps, and stunning fonts and graphics, making it ideal for data visualization. All components can be easily customized using SASS files.
Material Dashboard Laravel is a free and open source Bootstrap 4 admin panel developed for Laravel 5.5 and later. Created based on Google's Material Design, this template has a modern and intuitive design and integrates with the PHP Laravel backend. The product offers free and paid versions.
Material Dashboard FREE Laravel comes with 60 frontend components implemented, which you can combine and modify as you like using SASS files. Each element has different states of color, style, offset, and focus.
Features:
Inspired by Google Material Design
Over 200 elements, 15 add-ons
27 pages of examples
Quickly go from prototype to fully functional web application
Ready-to-use components like ready-to-use CRUD for user management
Graphics and notification system
Animation, waves and transition effects.
Core plus
Core Plus is another Laravel board that you should consider. Rendering a Bootstrap 3, HTML, and Laravel admin template, it is suitable for web application development with a responsive and user-friendly layout.
The Core Plus Laravel model offers 2 panels that you can choose between V1 and V2. The first version shows data on daily visits, traffic from different countries (audience by location), daily product sales, project status, and total revenue. The second panel displays real-time views, recent activity, and server load information.
Features:
Two panels: one for project overview, one for live view and server load
Responsive design, multiple colors with SASS customization
Full calendar module allows drag and drop and resizing of events on the calendar
Many user interface elements such as file downloads, Google Maps, charts, data tables, and galleries.
Many pages like Login, Register and Invoice
Laravel Spark skin to transform your default Laravel Spark UI
Includes Laravel blade files to speed up development
conclusion
When choosing a Laravel admin panel template to build your PHP project, consider the cost, features, and specific business requirements. Some products offer free and paid versions with extended functionality. In this case, first install the free version and determine that this model meets all your requirements.
What is Laravel admin panel?
Laravel provides an easy way to build great looking integrated apps with various external packages and libraries. It also supports many predefined Laravel admin panels which make it easy to manage complex applications with just a few clicks. Bootstrap integration with Laravel. How Laravel Dashboard makes the development process easier.
How do I use admin templates?
With a ready-to-use admin template, you're all set. You don't have to wait for a designer to design your site and then code. All you have to do is choose a template, pay for it, download it, customize it, add your content, and you're done.
What is admin dashboard?
The admin panel provides admins direct access to important Encompass tools for faster and more convenient community management. The dashboard serves as an administrative home page with access to key elements of your community.
What are admin templates used for?
Administrative templates are simply predefined web pages that you can use to create the main user interface for your website. They contain the layout and its HTML and CSS code that would be needed in an administration panel. You can use these codes for the design you need and easily integrate them into your web application.