In the WordPress community, the importance of regular website backups is regularly emphasized. However, many people don't realize how important they are until they stumble upon a damaged site.
When this happens, there is no better feeling than knowing that you have a copy of your site that you can use to do your job. As long as you have a backup of your database and files, you have a way to manually restore your WordPress website.
In this article, we'll explain when you might need to restore your site from a backup and the methods available to do so. Here's how to do it manually in five steps. Let's get into it!
Why you would want to restore your WordPress site from a backup
Backing up your WordPress files and database allows you to restore them if something goes wrong with your site. If your website is hacked and defaced by a cybercriminal, for example, having a recent copy allows you to recover your site and return it to its previous state.
You may be well versed in web development and programming, but something unexpected could happen on your site. Theme incompatibilities, a plugin vulnerability, or even a user messing with your site's code could result in a website that goes beyond basic troubleshooting.
Restoring a recent backup is often the fastest way to recover from a WordPress disaster. This can give you time to resolve the root of the problem.
Common methods for restoring WordPress backups
There are several ways to create and restore WordPress backups. One method is to use a plugin like UpdraftPlus, BlogVault, or ManageWP. While these tools can be useful, they are sometimes limiting as well.
Another method is to go to your host. Many web servers include backups as part of their plans, while others offer this service as an add-on. It often includes a "one-click" restore option.
However, your web host can save site backups on the same server that stores your site. If it is compromised in any way, your website and your latest copy could be lost.
For this reason, it is always advisable to keep the most recent backup on your own computer or cloud storage account. Then, if all else fails, you can always manually restore your WordPress website.
This process is a bit complicated compared to restoring your site with a plugin or through your hosting account. However, manually recovering a damaged site is sometimes the most reliable (or only) route available.
How to manually restore a WordPress website from a backup (In 5 steps)
To manually restore your WordPress website, you will need backup copies of your saved WordPress files and database on your local computer. Having some basic knowledge of File Transfer Protocol (FTP) and phpMyAdmin is also helpful, but you are not very familiar with these tools; still, you should be able to complete the steps below.
Step 1: Log in to your hosting account and open phpMyAdmin
First, you will need to log into your hosting account and access phpMyAdmin, the database administrator used by WordPress. If your web host uses cPanel, you can click on the phpMyAdmin icon under Databases:

Hosts using other control panel interfaces should provide easy access to this platform. You may need to consult your vendor's documentation to find it. Once you have opened phpMyAdmin, go to the Databases tab.
Step 2: Import your backup database
When you start restoring your database, you will have the option of emptying your existing database and importing your backup into it, or deleting it and creating a new one for this purpose. If you choose the last path, don't forget to add your new credentials to your wp-config.php file.
After locating the database where you want to restore your WordPress backup, click the Import tab at the top of the screen:

In the File to Import section, click the Choose File button and select your backup database from which you saved it: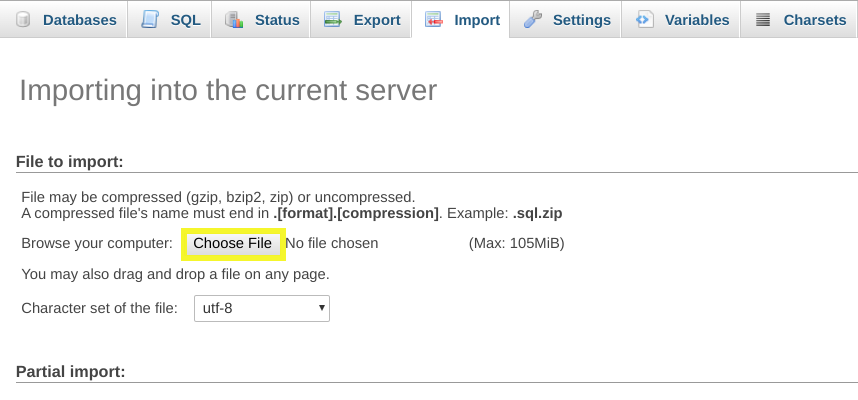 Then in the Format section, click on the drop-down menu and select SQL: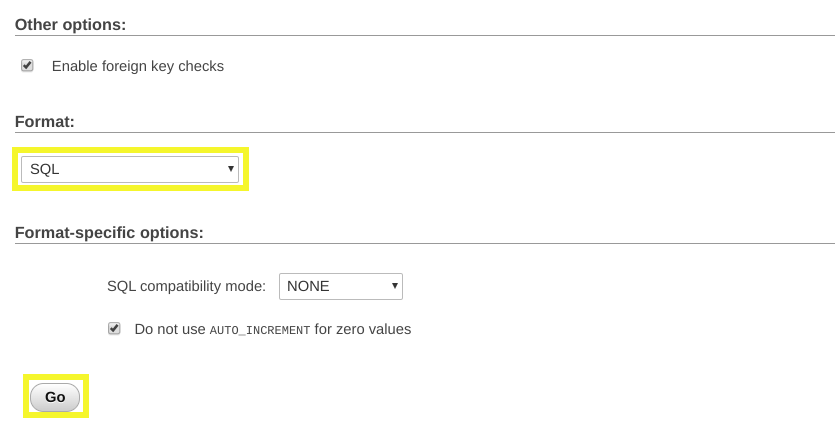 Then click on the Go button. It may take a while for phpMyAdmin to import your backup database, but once you are done this part of your site (which includes your posts and pages) should be restored.
Step 3: Install and log in to your FTP client
Now that your database is working again, it's time to turn your attention to your WordPress files. To restore them, you will need your web host's file management tool or an FTP client like FileZilla:
For this last option, you will need to retrieve your FTP credentials from your hosting account. Like the link to open phpMyAdmin, the location of this information will vary depending on your provider's control panel interface.
In cPanel, you can find your credentials by clicking FTP Accounts under Files:

Once you have downloaded and started FileZilla, log in with your credentials and click the Quick Connect button:

This should establish a connection to your server. You will know it worked when the status is updated successfully in the "/" directory listing.
Step 4: Upload your WordPress backup files
In FileZilla, you'll see your local files on the left side of the screen. It's important to make sure that your backup is in an unzipped file and saved on your computer so that it's accessible here. The 'remote site' (your server) will be on the right side:

You will now need to delete the old files from your server. Make sure your backup includes any custom code you want to save before you do so, as you won't be able to recover it if it doesn't. In FileZilla, you can just right click on the old files and select Delete.
Then download your backup. FileZilla allows you to simply drag and drop files from your local computer to your server. Other platforms should have an obvious download option.
If you are using FileZilla, there will be three tabs at the bottom of the screen: Queued Files, Failed Transfers, and Successful Transfers. Queued files are files that are uploaded from your local computer to your server.
Once uploaded, your backup files will appear in the Successful Transfers tab. Depending on the size of your site, this process may take some time. Once the number of queued files reaches zero, your restore should be complete.
Step 5: Check to verify that your site was safely restored
Hope you arrived without a problem. Once the file transfer is complete, you'll want to visit their website to make sure everything is working fine.
Start by verifying that your plugins have been transferred successfully. You may need to reinstall and / or re-enable some of them.
It's also possible that the structure of your permalink has changed, which can cause your page and post links to break. To check that they are working correctly, you can go to Settings> Permalinks in your WordPress dashboard: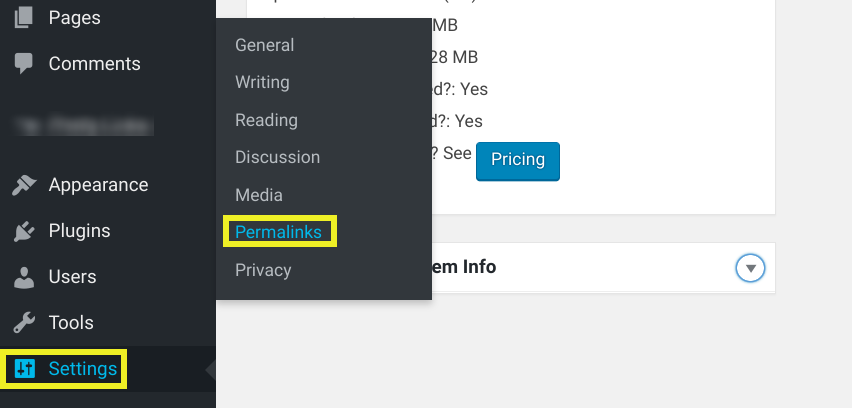 We also recommend that you change your WordPress admin password. You can also consider requesting new passwords for all users, including multi-site networks.
Finally, the time has come to install various security and safeguards measures. Hopefully, you will never need to restore your WordPress website again. However, if you do, you will have the necessary knowledge at hand.
Conclusion
Whether your site has been disfigured by a hacker or a compatibility issue brings it down, knowing how to restore a backup is crucial. there are different ways of doing this. However, manual restore gives you a bit more control than some of the alternatives.
Have a question about manually restoring a WordPress site from a backup? Let us know in the comments section!