Email marketing is a digital strategy based on sending emails and developing relationships with potential customers. An effective email marketing strategy turns prospects into customers and turns first-time buyers into repeat customers.
Some plugins can help you create smart contact forms and grow your email list. One of the best is Sendinblue connected with WPForms.
What is Sendinblue?
The WPForms Sendinblue plugin helps you organize your mailing list, automate your marketing, and attract your subscribers.
Creating newsletter forms on your site is a simple, automated process with WPForms and Sendinblue. With WPForms, you can create a form that collects emails and send them to your Sendinblue account.
Sendinblue is a great tool for creating attractive and attractive emails. With it, you can send transactional emails and create automatic emails.
To get the most out of email marketing, Sendinblue suggests when to send emails using its algorithms.
sendinblue comes with free and paid plans. It is the only company that offers decent and attractive deals for both paid and free plans. In the free plan, they have a limit of 300 emails / day, which equates to 9,000 / month. you can upgrade to a higher plan for just $ 25 per month.
How to Connect WPForms with Sendinblue
As you have already knew well about these two awesome tools, now you can easily connect sendinblue with wpforms ang grow your email list. You can connect it in 4 simple steps. lets follow the process
Step 1: Install the WPForms Plugin And Activate Sendinblue Addon
If you haven't already, install the WPForms plugin on your WordPress site. You can get the plugin HERE. To use the Sendinblue plugin, you will need to register for the Plus license or higher. Install the plugin on your WordPress site and activate it. Then check your WPForms license. You can now install and activate the Sendinblue plugin.

Step 2: Connect Your Sendinblue Account To WPForms
To connect your Sendinblue account to WPForms, go to WPForms, then click Settings and then the Integrations tab.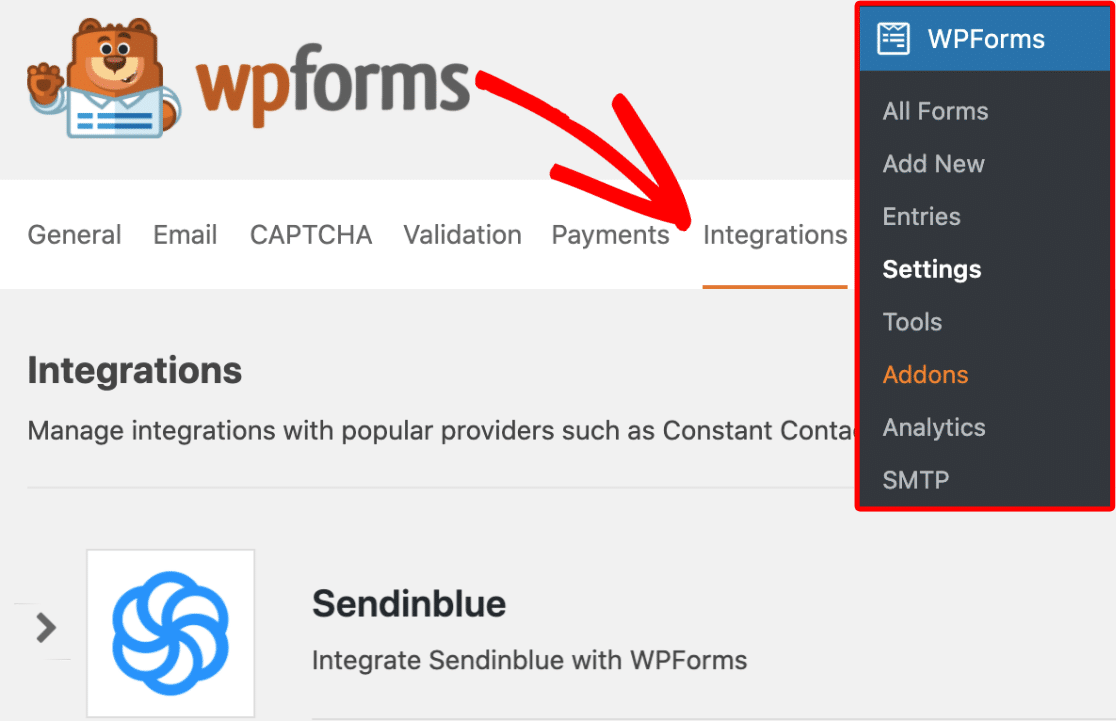 Once you are in Integrations, click on the Sendinblue option and then click on the Add a new account button. Here you need to enter your Sendinblue account information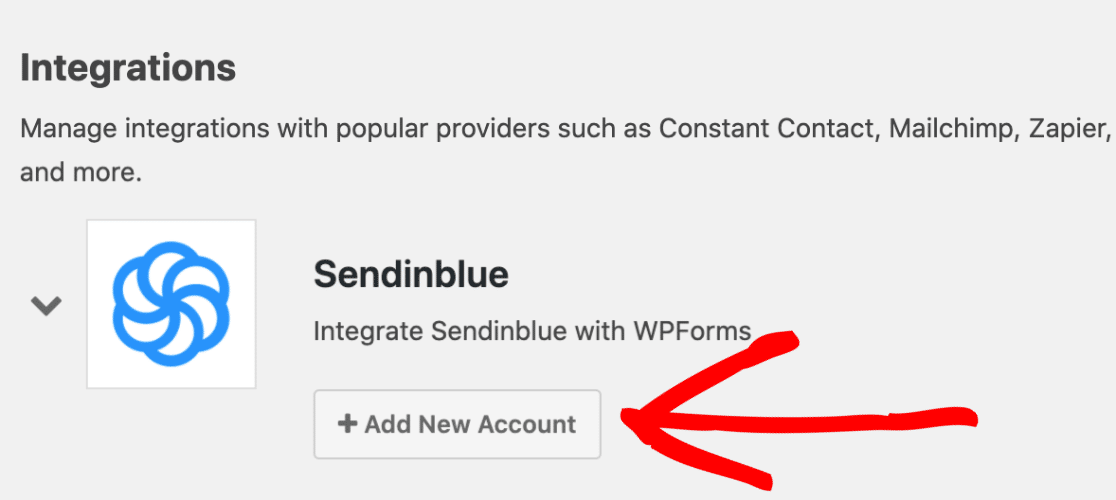 You will then be prompted to enter the API key for your Sendinblub account and your nickname for the account.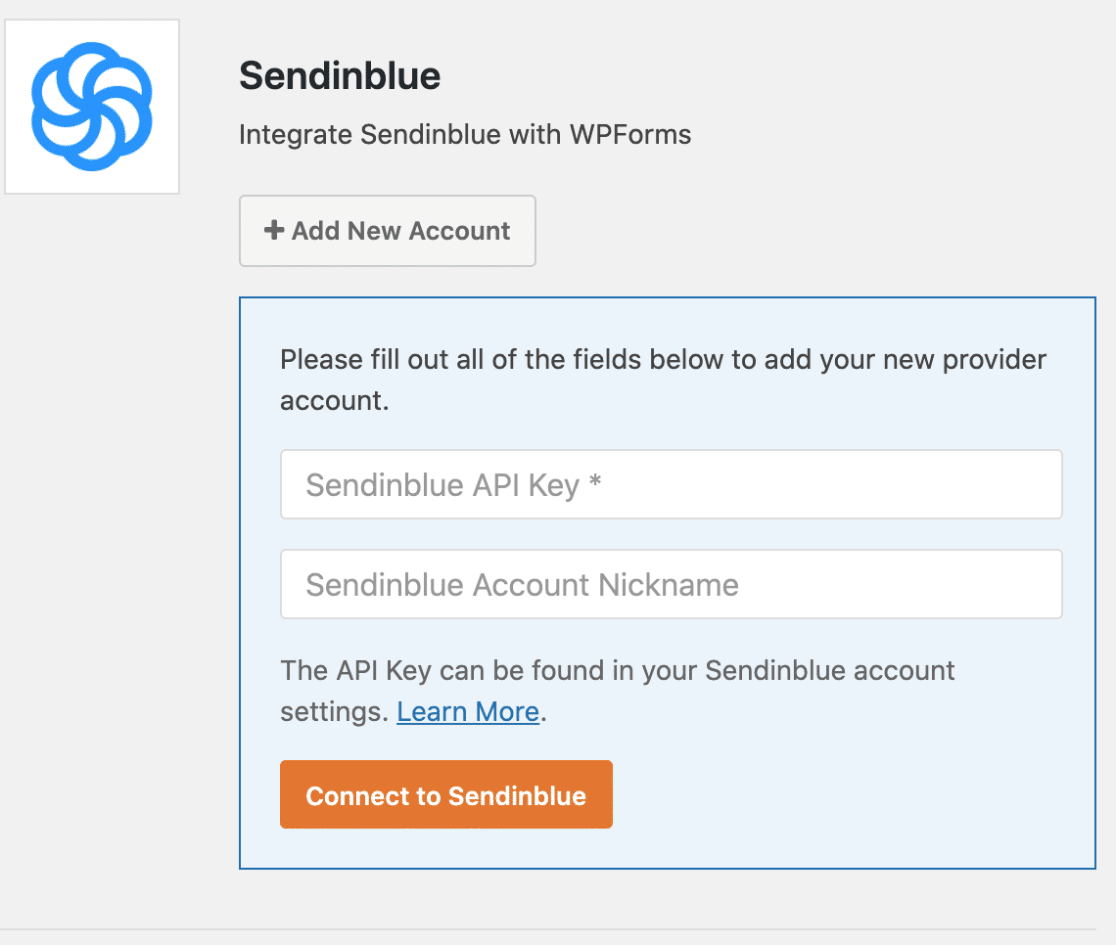 To find your API key for your Sendinblue account, log into your account. Click on the main menu. You will be able to do this from the menu in the upper right corner of the page. Choose SMTP and API. You can now see your API key.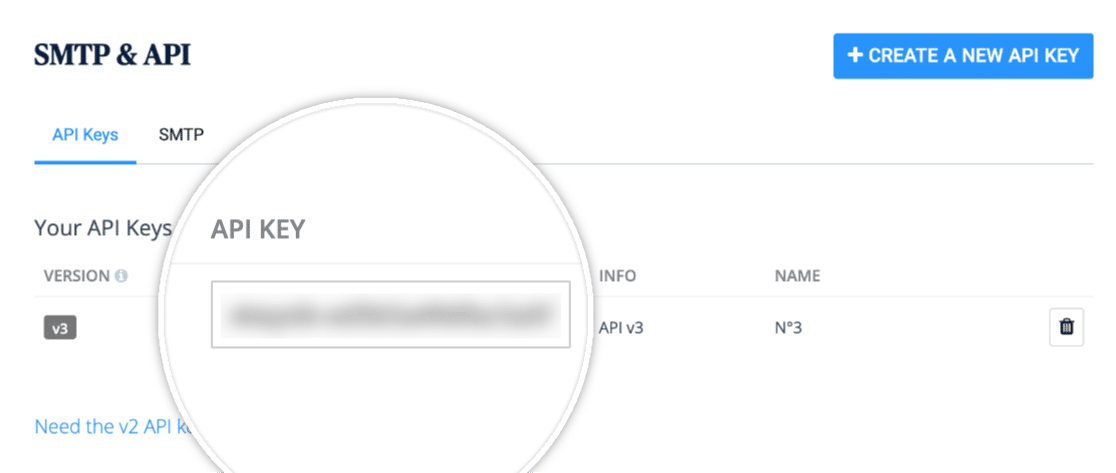 Copy your API key code and go back to your WPForms settings. You can now enter your API code in the proper field.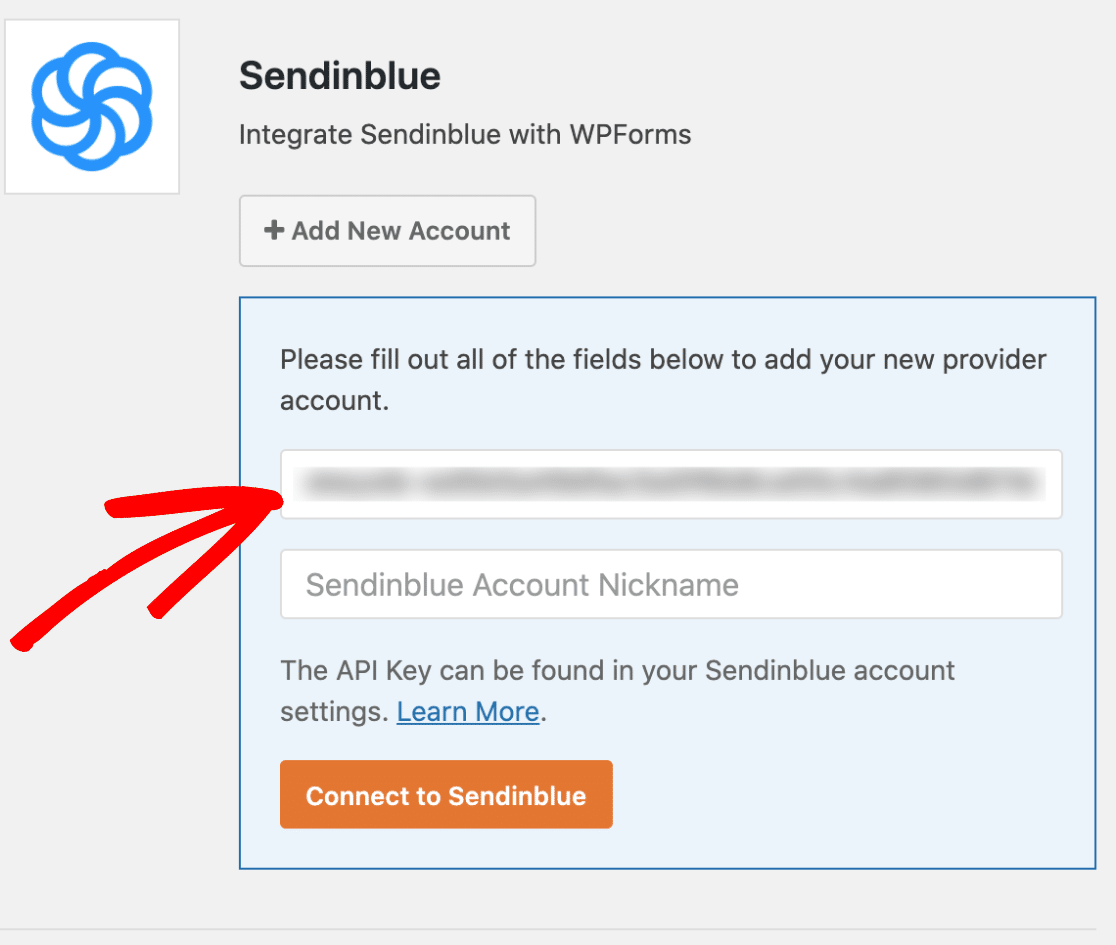 Next, you will need to enter the nickname for your Sendinblue account. Enter it in the Nickname field of the Sendinblue account. This is just so you know which Sendinblue account it is in case you later decide to add more Sendinblue accounts.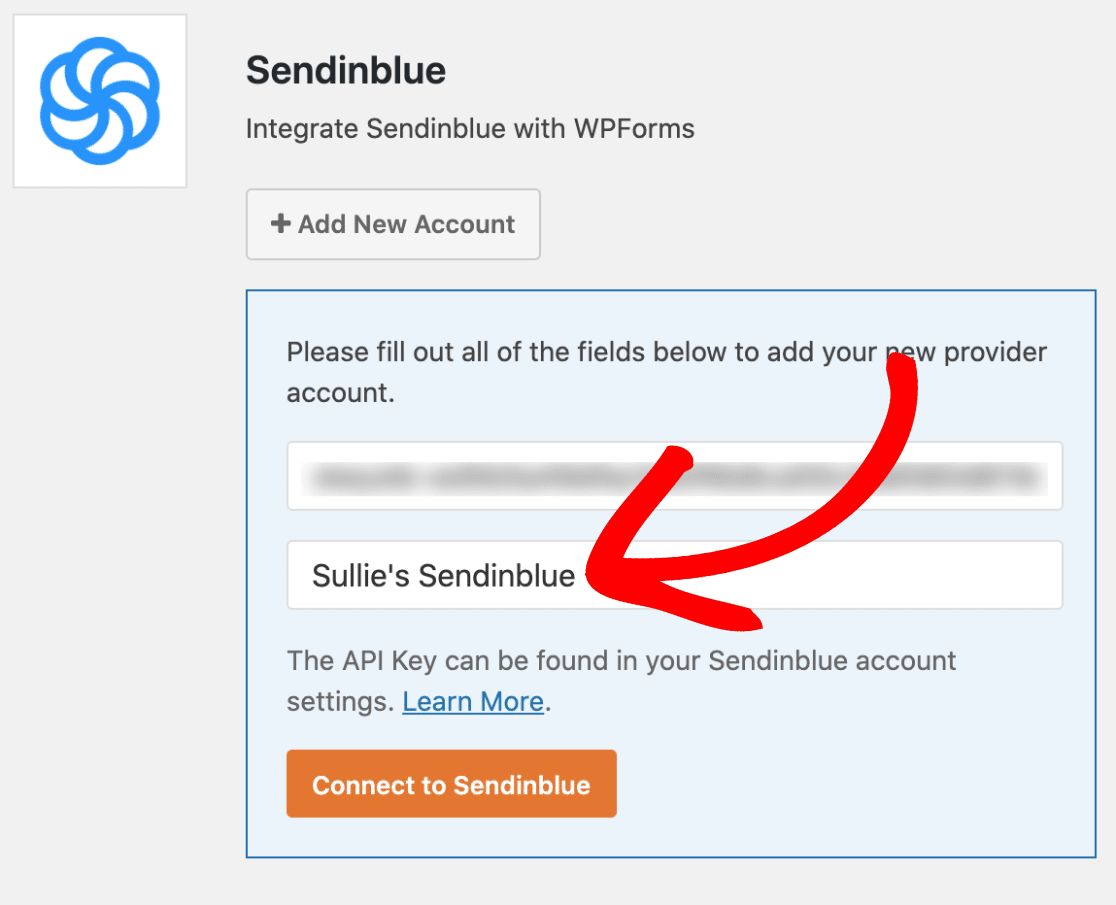 Step 3: Connect To Sendinblue
Once you have entered the API and the nickname of your Sendinblue account, click on the Connect to Sendinblue button. WPForms should now be logged into your Sendinblue account. When you're signed in, you'll see a green Connected status next to your Sendinblue integration.
Step 4: Integrate sendinblue with your form
Now you have to integrate Sendinblue with your form. To do so, select Account from the drropdown option. Here under the Action to perform, select the action you'd like to happen when users submit your form. For instance, you can select subscribe to add users to our Sendinblue contacts.
Now select the fields which you want to use to integrate with Sendinblue. You can select the name and email field. After the configuration completed check the form yourself and make sure everything is working fine.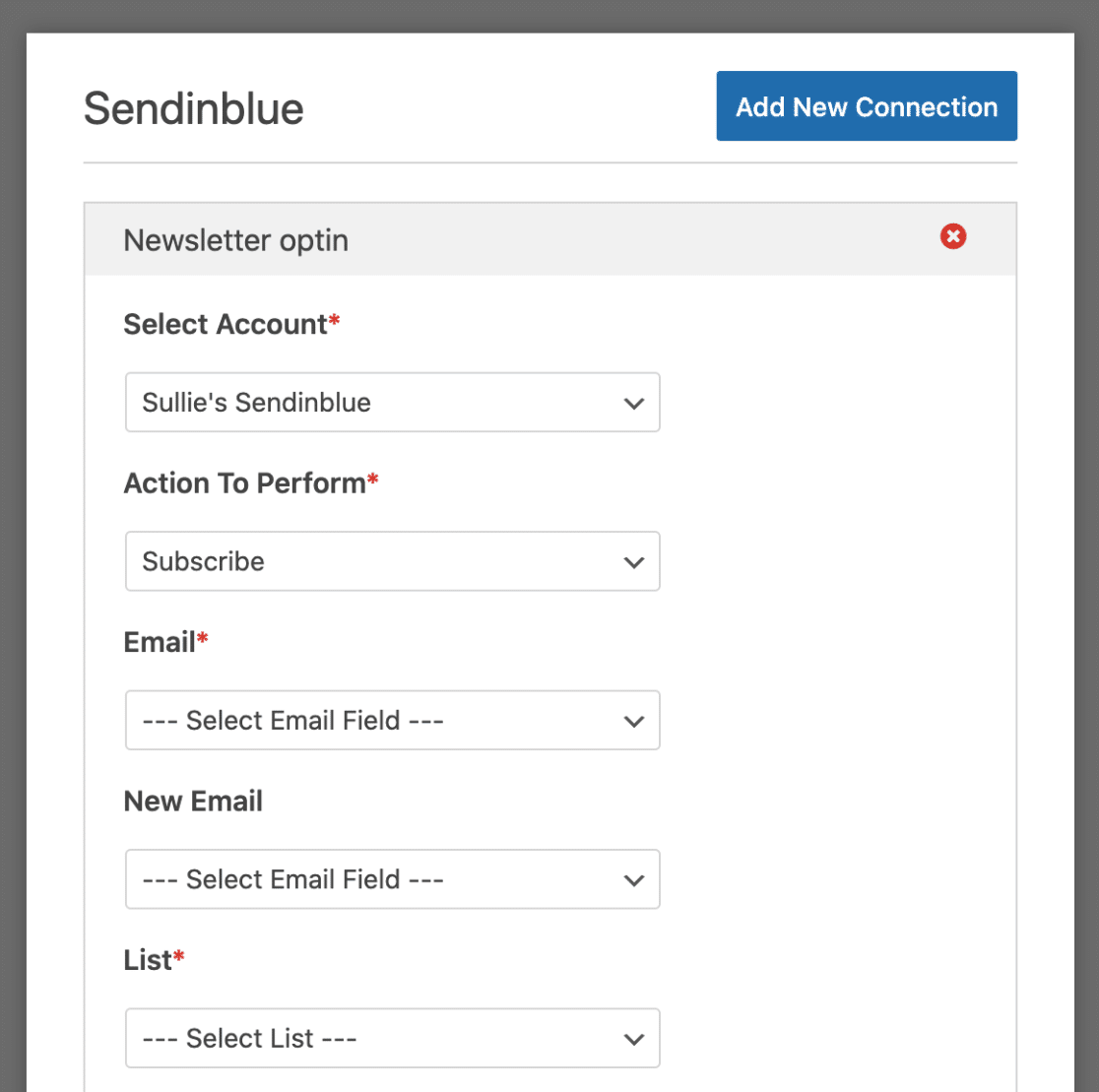 so you are ready and have integrated the Sendinblue with WPForms. Now whenever, users submitted a form, it will also add to your email list.
Conclusion
You can now integrate your WPForms with Sendinblue to collect and grow your email list, You can refer to this guide on adding Sendinblue to WordPress Forms if you find issues doing that.
Hello, I'm Arikesavan. I write about SEO, Marketing, Digital Products and Review. I've been helping businesses grow online for over 10 years. I'm passionate about helping businesses reach their full potential and I love seeing the results of my work. If you're looking for help with your online presence, I'd love to chat with you.