Comparing Squarespace and Bluehost is no easy task as they are completely different types of businesses. Squarespace is a website builder that comes with hosting included. Bluehost is just a web host.
Bluehost offers a variety of hosting plans. You can get shared, WordPress, dedicated, VPS, and cloud hosting. With Squarespace, you can only get shared hosting, but you also get an amazing website builder.
which is better, Bluehost or Squarespace?
Both companies offer easy-to-use services with excellent uptime and decent speed. Bluehost is the best for having more CMS options and offering a variety of hosting types. However, Squarespace is better overall because Squarespace plans come with more and better features, so you get more for your money.
Squarespace vs Bluehost comparison
It is time to compare Bluehost and Squarespace; just don't forget to use the switch to toggle between the two:
Best Value for Price: Squarespace
Comparing the two providers in terms of cost can be a challenge as Bluehost offers a variety of services and therefore offers a range of prices. Bluehost plans start at $ 2.95 per month with a 36-month long-term contract or $ 4.95 with annual billing. The cost of an ecommerce plan drops to $ 12.95 per month with a 36 month contract or $ 29.95 for a month. Squarespace plans start at $ 12 per month billed annually, and eCommerce plans start at $ 26 per month.
Winner: Squarespace – Offers more value in terms of transparency, shorter timelines, and functionality.
Best for Ease of Use: Tied
Bluehost and Squarespace make website building so easy that you don't need technical knowledge to quickly create a beautiful website. However, when comparing boards and editors, Bluehost guides you through every step of the way. Also, each section is tagged as something that makes sense even if you have no web design experience. Squarespace is also easy to use, but navigating the menus can be confusing at first.
Squarespace or Bluehost website builder
Bluehost does not have a website builder, but you can easily add the Weebly builder by drag and drop to your Bluehost account. The other option is to use WordPress to build your website.
Weebly has a free plan, but that plan doesn't have a lot of features. To add another version of Weebly to your Bluehost account, you will need to pay for a separate subscription.
The end results of building a website with Weebly and Squarespace are similar, but how you get the end result is where those two differ. Weebly has an easier learning curve, but when you learn how to use both builders, building a website becomes easier with Squarespace.
The best thing about Bluehost is that you can choose whether you want to use a website builder or WordPress to build a website.
Winner:  The Bluehost site builder is more simplistic and a bit more intuitive than Squarespace. However, since they are both very easy to use, the answer boils down to your own editing preferences.
Best for Design: Squarespace
Sometimes it is difficult to know which is better, Bluehost or Squarespace because they are very similar in many respects. However, when it comes to design, Squarespace wins by default. That's because it is an award-winning site builder known for its professionally designed templates, while site builder Bluehost is still the newcomer to the block, per se, catching up in the design department.
Bluehost Design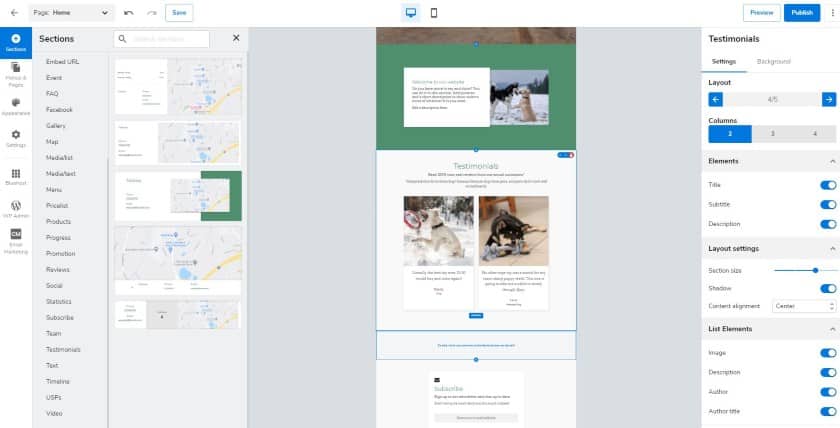 Bluehost doesn't offer much in terms of templates or themes, at least not for free. It starts with a basic theme and complements it with sections and layout adjustments, but if you want something better you'll have to buy a premium theme from Bluehost, which costs between $ 39 and $ 69.
Squarespace Design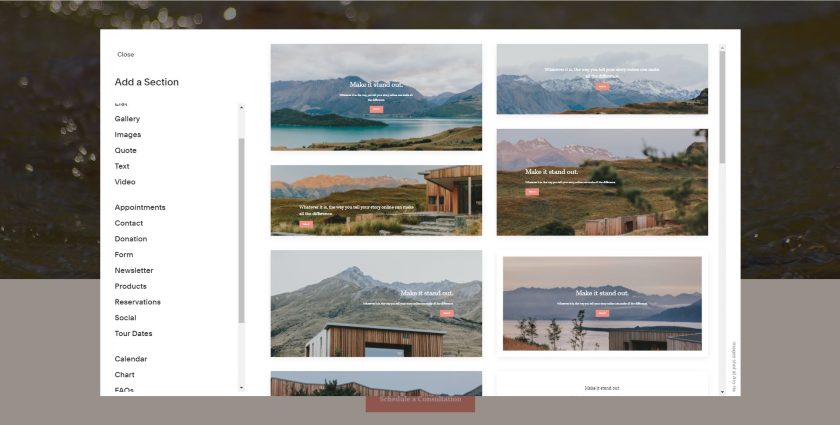 Squarespace offers more than 200 templates, all of which are free. Each design is clean, balanced and created to perfectly fit a theme or type of business. And there is no limit to the number of times you can change the theme.
Winner: Squarespace is winning by a landslide here simply because it offers a lot more design options compared to Bluehost.
Best for Ecommerce: Tied
The biggest difference in the Bluehost vs Squarespace ecommerce comparison is that Bluehost sets you up with a WordPress site and a WooCommerce online store, while Squarespace has a proprietary ecommerce solution.
WooCommerce is not a full-featured eCommerce website, but it does have online store themes and allows you to use extensions to make it more useful, such as for shipping, marketing, and analytics.

A Squarespace ecommerce plan comes with a great feature set, so you can offer discounts, gift cards, quick checkout, and abandoned cart recovery emails.
Winner: It's a tie. Squarespace is ideal for small and medium businesses looking for a simple and reliable way to sell online, while Bluehost is a better option for large retailers who need a number of additional features.
Best for Functionality: Squarespace
Even with the best website builders, you will encounter some limitations in terms of functionality. Bluehost only offers a free website design when you use Bluehost Website Builder, but it does offer dozens of different types of sections that you can add to a page, such as maps, countdowns, and price lists.
Likewise, Squarespace offers a variety of sections you can add to a page, including booking menus, calendars, and charts. It has an even shorter list of approved extensions (24), which makes it even more limiting. Also, you can't easily switch a website from Squarespace to WordPress to extend its functionality.
Winner: Squarespace sites always work as you expect, so here's the winner.
Best for Capabilities: Bluehost (With WordPress)
Bluehost makes it easy to customize site details like color scheme and fonts without you having to know the layout or coding.

Squarespace includes the tools you need to customize almost everything on your site.

Both website builders can provide you with a professional website or an online store with the basics you need. Customizing the design is easier with Squarespace because your content remains, even if you edit a template. With Bluehost, you will have to redo sections if you change the layout.
Winner: Bluehost wins here because it offers more sections, plugins and the ability to easily switch to WordPress, which offers endless capabilities with its huge library of plugins and the ability to add code.
Best Customer Support: Bluehost
BlueHost has 24/7 customer support by phone and email. Customer reviews are mixed. There are many reviews from customers who have been successful in reaching support and being happy with the service. Some users reported that they were unable to reach support even after multiple calls. Some users claim that customer service was unable to resolve their issues.
Winner: Bluehost offers you many options to find the answer you need, including 24/7 phone support and live chat support. For more information, check out our Bluehost review.
Best Alternatives
There's a chance there isn't a winner for you in the Bluehost vs Squarespace showdown, and that's good. You will find many alternatives to Squarespace with more predefined designs or lower prices. And Bluehost isn't the only hosting company to jump into the arena of website builders.
Inference
The winner is Squarespace!
Bluehost is a good hosting provider for people who don't want website builders. However, you wouldn't read this review if you weren't considering using a website builder. With the Squarespace website builder, you can easily create fascinating websites without any technical knowledge. Squarespace also has some great features and templates. Considering everything you get with Squarespace, it's worth the price.